Welcome to the third challenge from The Hammer Cup 2016, which has a Grand Prize of a NECA Gravity Gun, plus other prizes for second and third places.
This challenge contains 12 entries all with the idea of a "backtracking" as the main theme.
One of the staple events in video games is the backtrack sequence. A part of the game where you retrace your steps in the exact location but this time something has changed.
The change can be due to new enemies, a violent explosion, time travel, new vehicles etc.
We would like you to create a map where the player interacts with an area and then has to backtrack through the same area, but the area must have changed.
The reason for the change and the exact change is entirely up to you.
We will allow remakes of any Half-Life game map but they shouldn't just be copies – put a little personal touch into them.
Of course, we would be more than happy if you created your own design and have a reason for its change. Any reason is acceptable.
Even though time travel does not feature in any of the Half-Life games (unless you consider Gordon's stasis – in which case every game features time travel – forwards!) we will allow it for this theme – either forwards or backwards.
You could create a map where you are attacking a Combine Outpost and get knocked unconscious and when you wake up you find that the resistance has been pushed back and you are now behind Combine lines. You must return to join your resistance comrades.
Or you could have been sent on a suicide mission to destroy a facility and find yourself still alive after destroying it. The Combine have sent reinforcements and your objective now is to either die in a blaze of glory or make it back to the rendezvous point.
The main idea is to play the same area twice but the second time must be significantly different from the first.
The map will be judged on how well it fits the theme AND bonus points for Design (layout, foreshadowing, secret areas, concept etc), Visuals (lighting, textures, etc), Sound (ambient sounds, voice acting, special effects etc), Gameplay (flow, exploration, 3 dimensions etc) and Misc (g-man sightings, humour, seriousness, scares etc)
Basic Details
Title: BacktrackVille
Filename: hl2-ep2-sp-mc-thc16-backtrackville-v1.7z
Size : 148MB
Author: Derek AKA 1upD, Ethosaur, OJJ, Niker107, Dr. Towers, Erik-Silver Toomere aka ESToomere, Confused_Travolta, Gwydion Brain AKA Agameofsonces, Abdulhamid Cayirli AKA crowbar, Abraham AKA ihonnyboy, Marcu Alexandru AKA Melc311, Jason Gimba AKA Maki
Date Released: 30 April 2016
Download Options
Download to your HDD [148MB]
You can still use it with Gauge once you have downloaded it.
Manual Installation Instructions
Copy the THC16-BacktrackVille folder into your …\Steam\SteamApps\sourcemods\ folder.
Restart or start Steam.
BacktrackVille – THC16 should now be listed in your Library tab.
If you require more help, please visit the Technical Help page.
Authors and Entries
This is the order within the mod.
Collapse by Derek AKA 1upD
Delirum by Ethosaur
Going Gnome by OJJ
Grey Forest by Niker107
Home by Dr. Towers
Impasse Bypass by Erik-Silver Toomere AKA ESToomere
Mobius by Confused_Travolta
Pilot by Gwydion Brain AKA Agameofsonces
Raven Mansion by Abdulhamid Cayirli AKA crowbar
Retaliation by Abraham AKA ihonnyboy
Singularity by Marcu Alexandru AKA Melc311
Sweep by Jason Gimba AKA Maki
Winners and Points
To Be Announced Very Soon
Full Points Allocation
To Follow.
Entrants Comments
For this challenge, I asked all the entrants to write some comments about their experience. This is an interesting exercise and may help other mappers thinking about entering.
OJJ
The pressure of meeting a tight deadline gave me the drive to look up how to use entities correctly, for example up until a day before the deadline of backtrackville the skybox had ruined the shadows on my map but I couldn't figure out why but then I looked around for a fix on the model settings in the skybox and found out how to turn off shadows. Learning the source engine usually tends to be gradual because you're making maps at your own pace so getting that pace sped up so you can meet the deadline makes the process faster and alot more fun.
Ethosaur
Well even though my map didn't go as well as I had hoped, I felt I learned a few different special effects which I can use in later maps. I also during the beginning of my map I had improved a bit on detailing and outdoor creation (atleast for the first part of the intro) Every time I make these maps I learn something new even if its just a tiny thing, but it helps me improve for the next times I make more.
Dr. Towers
Well, I've been mapped for about a year now, but this is effectively the first, complete map I've ever finished, when I begun I was wanted to make a map more oriented toward the overall aspect and aestetics though I ended up deciding for an event-based one, expecially since the theme of the challenge was an idea, aka backtracking, rather than an actual enviromental characteristic (like it was Chasmville).
While working on it I almost immediatly realized that if I'd concentrate myself over the event structuring I won't have got enough time to fully design an appealing map, so it came to my mind that since the theme was "backtracking", I could have just done a limited amount of ambients, then altering some details when the player returns to them in a second moment, then another thing came to mind: "what if the changes in the enviroments have a supernatural origin?", it's a pretty common horror trope to have a small detail in a room inexplicably change when no one is looking so I decided to build the entire mod around it. My first idea was about an hunted mansion, however building a decent mansion, expecially with just hl2 materials and models, would have been pretty difficult and time consuming, so I decided to go for the suburb apartment, composed by very similar rooms that I can make out with a single template. The biggest difficulty was surely managing to keep order in the event structure, expecially considering that most of the map consists on returning to the same four rooms, I had to stuff tons of logic_compare, ambient_generic and similar in a very small space and keeping track of everything was quite hard and the many unfixed bugs of source surely didn't made it easier. Another issue I met was about dynamic lighting, another typical trope of the horror genre: despite the gain in atmosphere the map kinda lost in terms of quality, some rooms have unrealistic or glitchy lighting and unfortunatly I couldn't make anything about it, however considering Source is an engine more oriented toward static lighting it was still I big thing I managed to implement this mechanic anyway. On a last note I had to rush toward the end and cut some parts because time management, halfway the development I added an entire new part to the map: the dream sequence originally wasn't included or was just a non-interactive scene, while on the other hand the bathroom scene would have been done by Mossman/administrator during the couch scene, the small chase in the administrator's apartment was planned to be much longer and complex and would have replaced the final bathroom scene.
Confused_Travolta
Well, in my case it's the usual. Planning and time management is everything, especially in that short competition. It's something I've learned again… or you can say more appropriate – I didn't learn yet again. Yeah, seriously. You have to draw all your level on paper or something. Have all events planned. Then start to build basic layout of your map. Then… and this is the most important, most basic thing. You have to create all mechanics of the map, forget about the look, just mechanics, things that let you play the entire map already. Beta test now. It sounds obvious but it's not. If you level works well you can go to artpass and detailing. Switching basic brushwork to more complex, adding models and bonus things.
It's easy to say but harder to do, especially with bigger maps. It can be achieved in Villes if you will keep your things together, but sometimes, after many days of work with this basic level, you starting to doubt. And I find this with myself. If this level really ends up looking good? Maybe it will suck. Because light and textures really make a difference. So in this situation it's really good idea to just stay in one area and finish it, detail it entirely, that you can just see the result. It really gives you new energy when it turns out to be really good looking thing. At least it does for me.
When in doubt, it's always good idea to write things down. 2 days before the deadline I decided I won't be able to finish the map and that I won't participate. But then, next day I sit down and after like 15 minutes I wrote all thing that left to do, and were necessary for map to be playable. Turned out to be not so many. So I sat again and finished the map. Well it's not exactly what it was suppose to be, but at least it's there 🙂 I just didn't want to waste all those little things I crated. Maybe I could use some of these next time. Byt when this next time will be? And (maybe) some things will inspire other mappers and will be usefull in a better way on their maps? So why wait 🙂
My big problem is that I always try to do something new and add things that nobody did before. And the bad thing about this is, it takes lots of time. It's good thing overall but not in case of fast mapping challenges like Villes. Let face it. 3 weeks is not enough for decent map unless you are able to spend all this time on your project. Also you need a good idea for a map like ASAP. I for example, had no idea what to do for like the first week. So I lost 1/3 of the time just deciding what to do. Yeah, after this time I should really stick to tested things. I often catch myself in a sitution when I would love to add something, but I don't know how to make it exactly, so I have to spent time to read and recreate tutorials. And that something I could do way before, on some test maps, and now just copy it and modify.
There is this good idea to use something like prefabs. It doesn't have to be prefabs literally (the deafult ones are broken anyway I think) but just to have other "test maps", what I call them. Maps with already created stuff just waiting for perfect moment. Like for example, a fight between rebels and soldiers, an assault of combine, dropship landing, a ravenholm style trap, or everyting other you came up during your mapping time. It's good to have such things and just copy to your new map. It saves time. I make it a lot, even just copying the models. Normally you have to put an prop_static entity (for example) then open properties, then open model browser, then search and choose a model. It's not such big deal, but it just add up, everytime you want a new model. So just open your another map and copy the model. The ideal thing that I never did for myself (because I'm lazy) is models library on a map. It's often called as the zoo )because it looks like it). All models on one map, in groups. Something like this was made for TF2 while back. Some folks from TF2maps.net did a map with all models in all varations (skins) and you could just easy browse them and pick up with no worries about which type of prop entity they will work, etc. Valve did something like that with new de_nuke assets. It's super cool and usefull.
Creating a map is a many-layered thing. So don't forget any and be prepared! You could think, that creating small map should go quick. It's just brushwork, textures, lighting, enemies and some inputs and outputs between entities. Right? Well no, it always ends up with a lot more things to do, at least when you want a decent map.
I said layers because I see this that way. Layers. Brushwork layer, texturing layer, models, lighting, NPC and enemies, scripts, sound and soundscapes (something I always forget to do in Villes and end up with using one for entire map), cubemaps, clipping out the playable area, autosaves, adding your own textures and other files to the map and other. Yeah.. don't forget random bugs, unexpected crashes that always delay the work 🙂
I think that's all I can come up, about things that came back to me during making my entry. I just hope, that although it unfinished state, people will enjoy my map anyway.
Derek AKA 1upD
"One of the biggest challenges I faced was working up the confidence to actually submit an entry. I was afraid that perhaps my map wouldn't be up to the same standard of quality as the other maps. The important thing is that I had an idea and executed it to the best of my abilities. I've created a map that I'm proud of and I'm eager to learn from other players.
Another problem I ran into is that I feel the core concept of the map was underused. I had a clear mechanic in mind that would separate this map and make it fun and interesting, but because of the time constraints I didn't end up using that mechanic in the design of the map nearly as well as I should have.
I learned how to structure my time for a mapping challenge. I started by spending a few days on the design, then outlined the map using developer textures, and gradually added features. I didn't spend much time polishing the map visually, but in the end that doesn't bother me as much as I thought it would; I would rather spend more time on the core concept.
Ultimately, I think I will learn the most from reading feedback. I'm still learning exactly what makes a map fun to play, and I can't wait to apply what I've learned to the next mapping challenge."
Abdulhamid Cayirli AKA crowbar
Phillip asked us to write about something we learned from this challenge. There is probably more than one thing I learned, but the most important lesson for me was the following:
I planned my map to have 5 sections:
– the way to the main area
– 2 branches from a hub area
– one final fight you unlock after completing the branches
– escape from the way you originally came
In the version I sent to Phillip, the map immediately starts at the main area and you have to take the two branches, do the final fight and the map ends, so the first and final section I originally planned aren't in the map, but you can clearly see in the map how I planned to do them. The thing is, every other part of the map is compelete and polished more or less, but because the map is obviously unfinished, the experience might not be as satisfying as it could be, even though the map is fairly long in its current state, I think longer than the average Ville entry.
If I just planned to make these 3 main sections and build those and make a proper start and ending, the map would feel much more satisfying I think, I THINK, I'm not sure, that is something you have to decide. As a side effect it would spare me a headache. I also messed up the cubemaps and the last second and didn't have the nerves to fix them, although I think cubemaps aren't great in maps where light goes on and off anyway.
I thought about making a full mod out of my 5 maps I will have after the 5 challenges, then I would also complete this map and do everything I planned.
Erik-Silver Toomere AKA ESToomere
The text and images below were originally published on Erik-Silver Toomere's blog and are republished here with permission.
Another competition down, another map up. My latest map "Impasse Bypass" was an interesting foray into, like the title says, compromises and keeping it simple. The goal of this competition was to create a map that focuses on the theme of "backtracking" that is, an area that the player has to re-traverse after already having gone through it once.
When entering this competition I wasn't quite sure how I was going to tackle this theme. Due to lack of time I didn't have the time to enter the last competition but I had a rough idea that I wanted to do something that feels like it was a part of Episode Two. Therefore, I knew I had a wide choice for the enemy NPCs but I tried to limit myself to: the Combine soldiers, Combine synths and the good old zombies and related.
I also had a rough idea that a route surrounded by cliffs would prove, like Valve has demonstrated time and time again, the best solution for the gameplay area.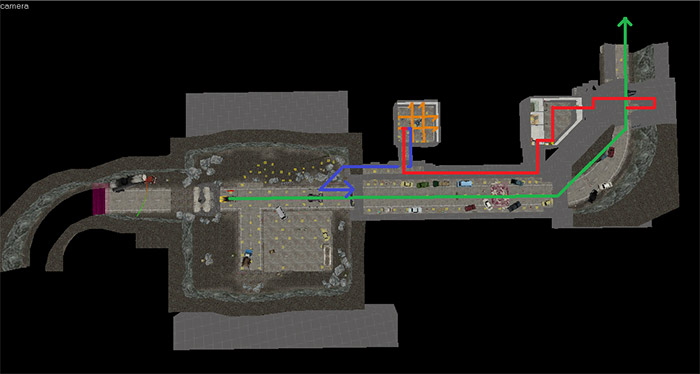 The image above is the earliest work in progress (WIP) version I have. A basic road through rolling cliffs, whilst creating this I figured that a man made passage way might prove to work as a good reason for backtracking – a choice that eventually gave the map its name: Impasse Bypass, a (by)pass that will prove to instead be an impasse.
Marked in green is the intended, unobstructed way through the map. Marked in red is the path the player is now forced to clear the blockage on the path, and after opening the passage the player has to continue, marked in blue, to return to the green line which then finally takes the player to the ending.
As you can see from the image the original plans had the player use the jeep. This brings us to another WIP shot: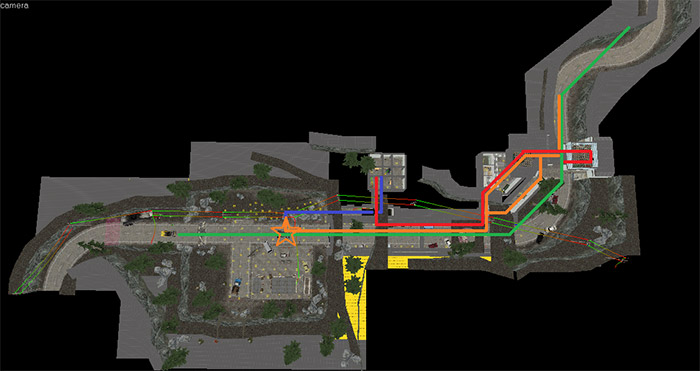 This second version now has an orange path. The new path mostly only opens up after winning the boss fight (marked with an orange star). Another addition is that a lot of the paths and areas that are already passed can be opened from the opposite end, that is, a lot of the doors that start locked can be unlocked from the other side. This serves two purposes, the first is to make the area feel more open, the second is to serve the theme of backtracking since all the doors open to an area that you have already. Additionally, having the APC "boss" fight in an arena that the player has already (potentially) explored makes the fight feel a lot more easier.
This takes us to the final version: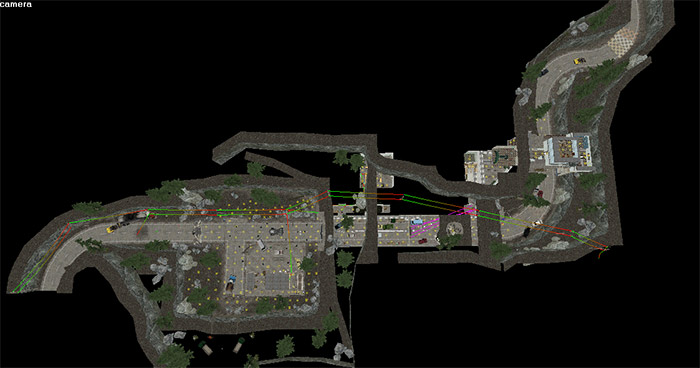 I have opted to not illustrate the paths since most will be the same and I don't want to ruin the final gameplay. But this is where we come to the compromises. Firstly, I removed the jeep: in playtesting it proved to amount to about 2 minutes of driving and the testers seemed to forget that they even had one. Secondly, I added a lot of those "doors" that I mentioned before that the player will open eventually but if opened earlier will provide with the explorer-types with goodies that will make the final fight easier.
So, what did I learn? Keep it simple. A small map with fun gameplay makes it feel bigger, as opposed to a big map with boring gameplay. The whole thinking progress for creating a map with limited enemy types, a need to keep it small and the time constraint will end up creating areas with a lot of "gating" situations which will lead to a fun map, and I will never tire of saying this: thank you Valve and praise be to GabeN.
The only problem I had is that I had to have a kind of a crescendo moment in the map. If I had more time I would polish the APC fight to be much, much more entertaining but I hope I made it up to the player by including plenty of ways to kill the metal bastard.
To conclude, limit yourself! Think small, limit the enemy types, reuse areas, pace the player. Don't force anything into the map that takes too long or too much effort to do, you'll burn yourself out. This time I finished a whole four days earlier (usually I send the map off, with what feels like, 5 minutes post deadline) which left me enough time to iron out small kinks and end up with a small but fun package.
Menu Music
Brane Scan by Kelly Bailey from Half-Life 2
Video Credits
The RunThinkShootLive.Com intro video was made by ĜL1TCĦ³
Thanks to Rob Martens for converting the introduction video to .bik format.
Custom Grid View Images
Twelve grid view icons are included in this file. To use the included grid view icon, select "Grid view" in Steam (top right corner).
Right click on "BacktrackVille – THC16" and select "Set Custom Image".
Then browse to the SourceMods folder and then to THC16-BacktrackVille/steam-gridview-icons folder and select the image. Then click "Set Image" and that's it.
Of course, you can create your own custom image if you prefer.
Sponsor
This challenge is sponsored by Nodecraft – High Performance Game Servers.
You chance to vote for your favourites.
You may select up to 3 entries as your favourites.
This vote DOES NOT affect the points for The Hammer Cup 2016.

Which are your 3 favourite maps from BacktrackVille
Sweep by Jason Gimba AKA Maki (27%, 52 Votes)
Singularity by Marcu Alexandru AKA Melc311 (7%, 14 Votes)
Retaliation by Abraham AKA iohnnyboy (6%, 11 Votes)
Raven Mansion by Abdulhamid Cayirli AKA crowbar (2%, 4 Votes)
Pilot by Gwydion Brain AKA Agameofsonces (4%, 7 Votes)
Mobius by Confused_Travolta (13%, 25 Votes)
Impasse Bypass by Erik-Silver Toomere AKA ESToomere (14%, 27 Votes)
Home by Dr. Towers (19%, 37 Votes)
Grey Forest by Niker107 (3%, 6 Votes)
Going Gnome by OJJ (1%, 2 Votes)
Delirum by Ethosaur (3%, 6 Votes)
Collapse by Derek AKA 1upD (2%, 4 Votes)
Total Voters: 89

Loading ...
Screenshots
WARNING: The screenshots contain spoilers.
Reader Recommendations
Avoid It!
Think Twice
Maybe
Play It Later
Play It Now!
---
14
recommendations, average score:
4.14
(out of 5), standard deviation: 0.41
(what's that?)
Total Downloads
5,959

Overall

0

Today

2

Last 7 days

17

Last 30 days

401

365 days
Meta Review Data
Statistics based on 16 comment(s) with meta review data.
Installed:
Using Gauge: Users
Manually: 16 Users


Time Taken:
Average: 2 Hours, 30 Mins
Shortest: 1 Hours, 30 Mins by
Longest: 5 Hours by
Total Time Played: 40 Hours, 3 Mins
This release is currently not in a collection
If you believe this release is missing important tags, please suggest them in a comment?
Jump to a review