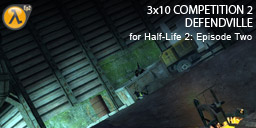 For this competition, you must create a scenario where you have to defend your outpost from a Combine attack.
The player should have approximately 10 minutes to prepare for the defence, including moving turrets, or other obstacles.
Ideally, the design would allow for players to try slightly different strategies on replays.
There are no limits to map(s) size or playtime. You can set the map in any environment that you want.
I would very much like you to start the map with this Radio Transmission. It can be from a radio or just played at the beginning of the map. The quality is lower than normal due to my having to use an older PC and I will try to supply a better quality one soon. If you prefer, you can have the content re-recorded by another voice actor if you prefer. You MUST NOT change the text though.
Judging Criteria
The winning map(s) will be the one that sets up the defence situation in the best way, paying attention to the atmosphere, the replayability and the general gameplay. If a map designes the outpost beautifully but is then boring to play, it won't win.
Attention to detail is very important in this competition. I would much prefer smaller but highly polished maps than larger, less polished maps.
Ideally, what I would like to see is giving the player some defensive choices to allow them to have some control.
Beta Testing
Please contact Ade, the leader of The Beta Testers Collective, a free map beta testing project, to have your map tested. I fully understand that 10 days is very short but even one playthrough by somebody new is enough to highlight issues. She can be contacted here: [email protected].
DO NOT WAIT UNTIL YOU MAP IS NEARLY FINISHED! ARRANGE TESTING IMMEDIATELY
Sponsor and Prizes
This competition is sponsored by SteamContests.Com who are kindly donating one $5 Steam game and I will also be adding another $5 Steam game. At this point I don't know if the winner will be able to chose their games or if it will be a random selection.
Mapping Updates.
Please feel free to post updates to any work in progress maps. Add a comment and link to any images you want to.
Special Rules
Please ensure that your map works on Steampipe.
The moment you decide you will enter, look at the time and use the last three digits as your outpost name and filename. For example, the time as I write this is 16:58. Therefore, my entry would be Outpost 658 and my filename would be 658_pp_3x10.bsp. In the unlikely event there are duplicates, I will contact one of the entrants.
Steampipe
For more information on Steampipe, please see: Steampipe and the Current Issues, this FacePunch Mapping Thread and this Steam Community thread. You could also try a web search for specific issues.
In the 3×10 announcement, The_Blazer wrote "Specifically, the Source SDK tool is now entirely disabled, and Hammer needs to be launched from Steam > steamapps > common > Half-Life 2 > bin. It