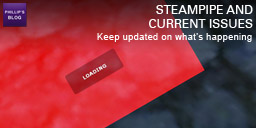 This post was written by James Partridge.
You may have noticed that some Valve games haven't been working as smoothly as usual.
Well, there is a reason for this and James Partridge explains and offers some help.
What's going on?
Some people may have experienced problems with Episode 2 recently. Much of the dialogue has stopped working and Alyx and others just stand around looking weird. There have been lots of discussions going on out there about the cause of this and what's happening to the Half Life 2 games in general. As there seems to be a lot of confusion, I thought it would be a good idea to bring all of what we know together and explain how this is going to affect mods going forward.
What's happening?
Half Life 2, Lost Coast, Episode 1 and Episode 2 are all being upgraded to fit in with Valves more recent file system. Since Alien Swarm, Valve have been using a different type of compressed file type (like a zip file) called .VPK.
This new file structure is more efficient and allows for addons, maps, mods etc.. to be added and removed from a game in a far more flexible fashion.
This is all part of a project called, Valve Steampipe, their updated content delivery system, which is in preparation for the launch of the new Valve gaming console. The new console runs on Linux, so all of their game content has to be Linux compatible.
Why is this affecting Episode 2's current content?
We're not sure but what we do know, is that in order to fix the problem, you can opt in to the Steampipe Beta which will update your games to the new VPK format.
BUT READ ON BEFORE YOU DO THIS!
How will updating to Steampipe Beta affect my mods and mapping?
Updating to Steampipe Beta will stop all your prior Half Life 2 mods from working initially.
MapTap will most likely not work either until it is updated. (Once we know exactly what changes are needed, we plan to release an update – Phillip)
The Valve SDK which contains Hammer and the mapping tools for Half Life 2 has experienced a lot of problems with this new update and Valve promise they are working on this. Many mapping and modding projects have been affected and delayed.
Mappers who are desperate to get on with work right now should read this thread over at Interlopers.net: http://www.interlopers.net/forum/viewtopic.php?f=1&t=36965
How do I get my mods working again after I've taken the update?
See this post for more information about how to get your mods working again.
Older mods may need to be updated before they will work properly.
New mods may choose to release for Steampipe Beta only, as releasing to the older file format may affect how their mod plays due to the missing content and the fact that they will need to release an updated version pretty soon anyway.
So what should I do?
At the moment, the choice is yours, you can continue using the current broken version of Episode 2 or take the Beta update and wait for the modding scene to catch up.
The important thing to remember is that sooner or later (and it's probably not far off), Valve will force everyone to take the new Steampipe version update. All mods will have to be updated.
How do I take the update?
Simple! Just right click on each of the Half Life 2 games, go to the Beta's tab and in the drop down menu select "Beta – Steampipe beta".
You'll then get a series of updates and be asked to convert the content to a new format.
Is there any other benefit to joining the Beta?
Valve are releasing a lot of updates for the Half Life 2 games right now. There have been 6 beta updates in the last 2 days addressing a variety of bugs that existed for a long time.
Here's a link to the Half Life 2 announcements page that details what's being done.