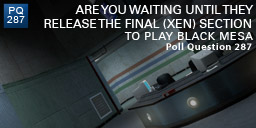 Can you believe I haven't even finished the tram ride at the beginning yet?
It's true. I started to record a "Let's Play" video and then got distracted.
Then I just focused on other things. I think it's because I want to give it my full attention and there is always something to do with the site that takes precedence.
I've got to the point where I will wait for Xen and hopefully that will also be enough time for the people who played it first time to replay play it as part of the TREE event.
Anyway, how many of you have not played it? I bet it's a really small percentage.
Time to vote