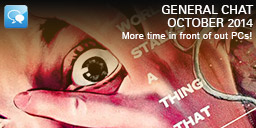 October is upon us.
Leaves changing colour, more rainy days meaning no more excuses to not be in front of our computers playing Half-Life mods!
Got any modding plans for this winter? Gonna build your first mod? You should. In fact, so should I!
Want a remix of some HL music?

Thanks to ALex from LambdaGeneration.com. for linking me to this.
This Month's Sci-Fi Movie
In June, I started to use a poster from a classic Sci-Fi move as the background for the post image. This month it is from Not of this Earth (1957). "An alien agent from the distant planet Davana is sent to earth via a high-tech matter transporter. There he terrorizes Southern California in an attempt to acquire blood for his dying race, the result of a devastating nuclear war." Sounds kinda cool!