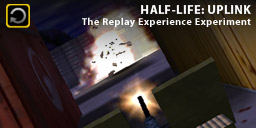 Uplink, released February 12, 1999, is one of two demos released by Valve for the original Half-Life video game. The first was Half-Life: Day One and contained the first fifth of the full game, and was only included with certain video cards of the time. Half-Life: Uplink, on the other hand, was a standalone demo set in the Half-Life universe, and contained levels and a storyline not found in the full title.
Ryan Finnie has created a wonderful website called HalfLifeUplink.Com, which contains everything you could ever want to know about the demo.
Not only that but he has created a "Mod" that installs under Steam and is run like any other mod. The site has an executable, which is very easy to us, but for those that don't like downloading and installing executable files , I have created a standard compressed folder that you simply need to copy into your Steam/Half-Life folder. Start or restart Steam and it will now be listed in your Library. This is how I ran my to play and get the screenshots.
The demo has a little "story" with clear objectives and is very reminiscent of the actual game.
Download Options
Download the 7z version to your HDD [2.63MB]
Download the exe version to your HDD [4.20MB]
Trivia
Uplink included several ideas that were removed from the finished game. The machine gun turrets were much more powerful, and could Gib people and were also a bit slower. It had executions and piles of burning Vortigaunts. It also had a scene where the player could hide in the shadows from a group of soldiers and remain hidden.
An extended remake of Uplink was released on October 21, 2006 called Half-Life: Uplink Extended.[6] This extended version of Uplink adds the fight with the Gargantua that ended the demo.
Other Uplinks
I used to have a number of "Uplink"s listed on the site. With the creation of this page, I have removed them. For information they were:
"Half-Life Uplink addon" v1.1 and v1.2 by Werner Spahl, which integrates the demo levels into the full version of the game.
"Half-Life Uplink lite" by Morpheus, which is just 3 levels stripped from the official Demo version
Sampo "Spooky" Sauri
A Complete Half-Life Walkthrough
On the left is a complete text walkthrough for Half-Life.

It has been written by Stanley E. Dunigan and updated with all the tricks and tips from PlanetPhillip.Com readers.

It is in PDF format, meaning you can open it directly in modern browsers or download it and print it.

(Left-click to open and right-click to save)
Do Not Own This Game?
You can purchase Half-Life directly through Steam and could be playing in within moments, depending on your internet connection.