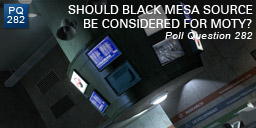 I tweeted that the beginning of Hatch 18 (coming to PP soon) was really good, Darren Weekes replied saying he thinks it is his Mod of the Year.
That got me thinking about MotY. I'm not going to run anything like previous years, because the Rec. Image system basically does that, but I'll certainly try and write a year in summary.
Sorry, I digress.
It got me thinking whether it was fair that other mods will have to compete against Black Mesa. This is a mod that has been in production for over 7 years. With goodness knows how many people having been on the team. Some of those are professionals.
Now, I applaud their commitment and the result, but comparing it to amateurs in small teams, seems like killing headcrabs with a rocket launcher.
Of course, we can't split the concept down to innumerable sections; one-man teams, two-man teams etc but perhaps just this once we need to say "No, let's not include this mod in any awards or prizes for work done in the modding community.
In fact, perhaps any MotY awards should be for mods made within one year.
Please don't get me wrong. I'm not saying we should exclude it, just the we should at least discuss it.
I understand that the "X of the year" is about the best X released that year but it just seems a little unfair.
What do you think?
Your Chance to Vote!