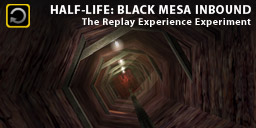 8:47am is the start of Half-Life. We don't know the year or month, but with "a topside temperature of 93 degrees" it's likely to be summer.
The tram ride introudces the player to the extensive world they are about to explore. As the CombineOverwiki says the "intricate workings of the Black Mesa Research Facility revealing themselves as being fragile, and more often than not, broken.", shows that even secret bases don't always work as planned.
The voice and screen text add just enough information to ensure you know what's going on but without distracting you from looking around.
The ride finally ends with the tram stopping and your being let out by a security guard…"Morning Doctor Freeman, looks like you are running late".
Trivia
This chapter features the only confirmed sighting of Barney Calhoun in Half-Life, affirmed by the beginning sequence to Half-Life: Blue Shift.
When viewing the penultimate map of this chapter in an external map viewer it's possible to see a different version of the Sector C Test Labs entrance behind the door. This is also achievable through the use of cheats.
The Poll
Screenshots
Click on the thumbnails below to open a 1024 pixel wide image.
WARNING: The screenshots contain spoilers.
The Replay Experience Experiment
This post is part of the The Replay Experience Experiment 2012 event. This is a chance to replay all the Half-Life games and discuss them based on our experiences since we first played them.
Hat Tip
All text taken from the CombineOverWiki, a fan-supported, editable wiki covering the Half-Life series of games.
A Complete Half-Life Walkthrough
On the left is a complete text walkthrough for Half-Life.

It has been written by Stanley E. Dunigan and updated with all the tricks and tips from PlanetPhillip.Com readers.

It is in PDF format, meaning you can open it directly in modern browsers or download it and print it.

(Left-click to open and right-click to save)
Do Not Own This Game?
You can purchase Half-Life directly through Steam and could be playing in within moments, depending on your internet connection.