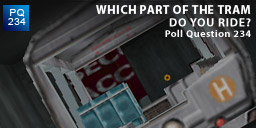 Since I have been playing all these HL1 mods for the 100SDoN event I have ridden quite a few tram rides.
It got me thinking about roller-coasters and how some people like sitting in different positions (an acquaintance travels the world riding them and explained all about it).
I think the first time I rode the tram at the beginning of HL1 I was back and forth like a yo-yo, trying to make sure I didn't miss anything.
Of course, it's different when you are in a combat situation but I'm still curious about where you stand.
The Poll