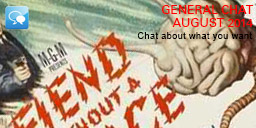 Welcome to August!
By the time you read this, I will be on holiday for 3 weeks in the UK. I'll be checking my email and the comments, but won't be posting anything until the last week of August.
I didn't find any interesting videos to add this month, but maybe you can?
Have a great August and see you all soon.
This Month's Sci-Fi Movie
In June, I started to use a poster from a classic Sci-Fi move as the background for the post image. This month it is from Fiend Without a Face (1958) and it's so funny to see what scared people back then. I'm sure we will look back on what we think of as scary in a twenty years and laugh at that.
Here is the poster: