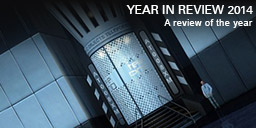 So now Christmas and New year celebrations are over, I thought I would take a look at 2014.
I have to admit that with looking back at the list of posts, very little actually comes to mind about SP release last year.
Perhaps you are one of those people who remember the names of mods and approximate release dates without checking but I'm not.
I won't be linking to each and every post made on the site, just highlight interesting ones and mentioning other topics.
January


Much to my surprise and disappointment, I find that I posted NO releases in January. I really can't account for that and do no more than apologise. I suspect I was playing a lot of squash.
I did announce a new mapping competition, but that didn't get released until February. Oh, and people were still having Steampipe issues.
February


AssassinateVille was released and it seems to have been generally liked. At the time of writing it has 918 downloads, 82 less than the magic 1,000 mark. Maybe this reminder will bump it up!
James Patridge gave up drinking – let's hope he stayed on the wagon.
A. I. turned 68 and let's hope we are all playing games at that age.
There was also a Half-Life release, called, Torching the Light, which is where the image above comes from.
March


Well, March was all together more active with another mapping competition announced (RavenholmVille) and a few releases too.
A lot of the chat in the March General Chat was about how bad the weather was – often attributed to the English, but let's be honest EVERYBODY likes to talk about the weather.
As far as releases were concerned, Forest train was released first on PP and to much praise. All of Jason's work is highly regarded and this received no less than 8 Personal Favourite recommendations. In addition, there was Fight for Life for Half-Life and Saint Black Mountain for Ep2, both competent releases.
MapTap got a final 2.4 beta release which helped us iron out some issues.
April


Another idea of mine (one of many) fell flat on its face: Animated Gif competition. I probably should have called it the proper name, which is Cinemagraph as that might have excited people a little more. Anyway, I learnt how to make them and will be using them on the site.
Something more successful was the Interlopers.net mapping competition, which produced some great maps, but they don't get released until a little later.
With regard to actual releases, RavenholmVille was released with all reviewers saying PLAY IT! and over 1250 downloads. There were 4 other releases posted but nothing special or noteworthy.
May


Looks like I was pretty lazy last year because May contained no releases. There are always things to update and maps I missed, so there's no excuse really.
MapTap got an official 2.4 release, which was good and there was the RavenholmVille Podcast too. I really should try to do a podcast for each competition, shouldn't I?
The general chat was about advice for a newbie mapper (wonder what happened to him?), completing the entire Highway 17 section on foot, no cheats! and talk about Steam games we bought for a bargain.
June


Six Releases! Six releases in the sixth month. Half-Life 6 confirmed! The most important were:
I also asked for donations to the running costs of the site and recieved $526 Dollars, which was 175% my goal. So, than you to everybody who contributed and especially to Unq, who offered some games as incentives for reaching the total.
July


July was a MASSIVE month in terms of posts and releases. It's when my workload drops and I have more time to "play".
Before we look at the releases, let's look at what else happened.
MapTap got a 2.5 beta release which, which at the time of writing is being finalised. Sorry for the delay, but Alex and I agreed on a serious re-write of the code to ensure the updates were easier to make and better implemented.
There was plenty of talk about HL-related videos with some links to some cool ones. And just before we talk releases, there was audio interview with Charles Zang author of Intrusion and Courage.
Onto the important releases. I actually posted 20 this month. Phew!
First up is Year Long Alarm, which is a contender for The Golden Hunter Award and The Freeman Award and a superb piece of work it is too.
Keys is an Art Mod that may appeal to players looking for something a little deeper than shoot shit.
The Returning for Half-Life was one of only 3 GoldSource releases this year.
Another Art Mod posted in July was Post Script which got very mixed reviews, from Play It Now! to Avoid It!.
Next up was a delightful find called Mining Complex, which was set on Mars and featured some cool locations.
Climbox was an interesting release which contained a gameplay element normally found in MP releases. Why not watch Phillip's Playthrough Video to see if you would enjoy it?
Fancy having gravity manipulated? Well, Rabbit HoleCombinationVille, was announced, extended and released, all in July!
Remaking an MP can work, as The Gloom for Half-Life shows.
Unexplored World has some interesting moments, especially at the beginning.
Lastly, we have a map that turns your world upside down – literally. It's called The Fun Box.
August


I am shocked to say that I missed a number of interesting comments in the general chat of August. I suppose it was because I was on holiday but I should be more careful next time.
One of them was asking for feedback on an early Ep2 map called Penumbra, which actually looks pretty cool.
Poll Question 298 asked How often do you play the free trials on Steam? and I was surprised to read that 42% NEVER play and only 44% only occasionally play the free trials on Steam.
There was also news of the Enhanced PP Profiles, which are just the first part of a bigger project that will strength and extended "friendships" between members.
We had four releases this month, another mapping competition: SniperVille 2, which got mixed reviews, The Gate 2, which is possibly the biggest SP mod ever released for the HL series at 14Gb uncompressed was generally slated.
The Forgotten Journey Mod was released after the Interlopers.net competition and some of the maps were updated for this release.
Finally, Keeping on track has mostly good reviews.
September


September was another busy month.
Jason Gimba finally finished Half-Life! and we talked a bit about GamerGate. I was introduced to Half-Life Backwarding, which blew my mind.
The site celebrated 4000 days online and then 18 days later it celebrated its 11th birthday. There were also some game giveaways but I deleted the posts not long after – I don't keep those posts any more.
There were three poll questions but the most interesting for me, as far as results were concerned was How many Steam games do you own?. I am still amazed to read that 17 readers have 101 to 250 games and 15 people have 251 or more! That's a lot of games.
With regard to releases, AutoVille was announced and released and it received mixed reviews.
Floodworks was better received, which just goes to show that gameplay can shine through even visually plain maps.
The Masked Prisoner proved to be one of the top releases this year, with a story and some great voice acting – Highly Recommended.
Steam, Tracks, Troubles and Riddles was an unusual release with a lot of interesting touches, but too many issues for me to love it. It's worth checking out though.
October


I got an ebook reader and personalised the screen.
Duality offered the same map but with two gameplay styles, which was pretty cool.
If you are looking for a short but intense map, then Data Place could satisfy you.
Another release by the same author was Game of Skills, which offers puzzle "rooms" for you to demonstrate your playing skill.
headcrab Frenzy is aptly named and is quite a challenge. Can you beat my high score?
Lastly, Dead End Road offered some short indoor driving sections, which is unusual.
November


The general chat discussed retro, with Jason linking to Paleofuture, which is a pretty cool site for retro lovers like me.
There were a bunch of GoldSource releases, as I tried to start adding missed mods. But more important than that were two Source mods. HorrorVille was well received with some spooky entries and Liberation told a classic "escape" story. Both are highly recommended.
December


Again, there were plenty of newly posted, but old Half-Life mods added, as I continued my task of adding missed releases. In fact, there were no Source posts this month.
There were lots of different topics mentioned in the general chat, but I'd like to highlight Cynicism Humorously Illustrated by Eduardo Salles, which I thought was pretty funny.
Personally, I enjoyed Operation Myrrh but it got mixed reviews.
Hazardous Materials 2 was generally liked but Biohazard 2: Outside Black Mesa was very much disliked by the two reviewers who took time to comment on it, myself included.
Andd the final release posted was high Speed, which had been lost for many years, but I was lucky enough to find it. I enjoyed it and hope others will too.
Final Thoughts
So, there we go. A brief run-down of 2014. Trying to do this a few days is not really the best way to do and and from now on, I will begin to make notes during each month.
Overall, I think this was a pretty good year, both for the site and releases in general. There were more good things to play than terrible, so that's always good.
Please don't forget to vote in the Releases of the Year Awards 2014 – voting ends Saturday 17th January 2015.
What were your highlights of the year?
My Favourite Screenshots of 2014
Below are my favourite screenshots of the year. I would have liked to make a short comment about each one but that's not possible this year. I'm not suggesting that each screenshot shows a great release, just that I felt they showed something interesting. The screenshots all link to 1600×900 images except the second one.