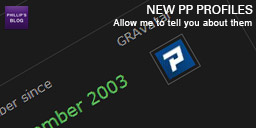 I pride myself on always trying to make the site better. Not just by adding new content, but by improving or introducing new features.
Today I am pleased to announce the rollout of Phase 1 of the PP Profile page.
This post will explain its current features and hint at Phase 2 and 3.
Overview
The PP Prfoile page is only for registered PP users. ALL users can view profiles, but only registered users have one.
Almost ALL the information is OPTIONAL. This means that if you don't want to add or update the information, you don't have to.
The idea is to begin to create closer relationships with other PP users.
I want to stress that this is just the first phase of a greater project and much more will be added to the profile page over time. Not only that but it will be made to long a LOT better too.
Any data not entered will not be displayed. So, if you don't enter any data about your favourite games or mods, that section of your public profile will not be displayed.
Sidebar Widget
In the sidebar, near the top, is a new widget. If you are logged in, this displays your username and 3 links. If you are not logged in, it contains a log in form and a Lost Password and Register links.
When logged in, you have 3 links: Your Public Profile, Edit Your Profile and Log Out.
Clicking the Your Public Profile link displays the profile that everybody sees. No information can be edited here.
Clicking the Edit Your Profile link allows you to update and add information.
Edit Your Profile
The enhanced profile contains a lot more information than in the past.
Remember: ALMOST ALL THE FIELDS ARE OPTIONAL
You are NOT forced to add or update ANY information if you don't want to.
The new fields in the basic details are: Website 2, Website 3, Skype Username, Twitter Profile URL, Facebook Profile URL, Steam Profile URL, YouTube Channel URL and Livestream URL
This means you can link to social media sites, other personal sites etc.
The next new section is Extra Information
This includes your gender, year of birth, and country where you live. I am hoping to create some meaningful statistic with this information.
After that comes the Half-Life games you own and which is you favourite.
You then get a chance to choose your playing style: Cautious, Balanced, or Aggressive. I'm hoping to get an insight into which types of mods are liked by which type of players.
Below this are two text boxes for you to write a little about your playing style and/or your playing history.
Now you can add your Top 5 Favourites for others games and SP mods. Eventually, we hope to automate this and allow a way to create links to the Steam page for games and PP page for mods.
Finally, we have any modding skills you may have. We admit that the display of this data is uninspiring and we will work hard to make it look much better.
Finding Other Users' Profiles
From yesterday onwards, ALL comment usernames of registered users link to their profile page. If a user was not logged in or not registered then there is no link.
The Coder
I would like to publicly thank Mars for making the time to code the page and for spending quite a lot of time on Skype with me making changes and improvements. It's been a pleasure to work with him and I really hope he has time in the near future.
Phase 2
Phase 2 will be about adding data about your commenting and recommendation image use.
Phase 3
Phase 3 is the introduction of the "Trusted" reviewers feature. I won't go into details here except to remind you that it will not be automated. Users will have to manually "Trust" other reviewers. You will then be able to find maps and mods you are likely to enjoy based on your Trusterd reviewers.
Summary
Well, there you have it. It's not much yet but is the framework for some exciting features.
As always, I'd love to hear your thoughts, so please post a comment if you have a question, suggest something or if you want to raise an issue.