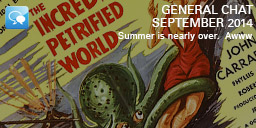 Welcome to September!
My Squash training should be over (I never did any due to injury) and the season should be about to start. I'm still injured and will probably miss the whole of September, which means I won't be fully fit until January – being old SUCKS!
Anyway, the good news is that it leaves me more time for the site, so expect regular updates.
I'll even try to restart the weekly Poll Questions, if I can think of enough interesting things to write about.
Hopefully, I'll also finish The Trap and start a new long term Twitch series.
So, how was your Summer?
This Month's Sci-Fi Movie
In June, I started to use a poster from a classic Sci-Fi move as the background for the post image. This month it is from The Incredible Petrified World (1957). The diving bell cable breaks and that's when the real adventure starts. I haven't seen it, but with an IMDB rating of 3.0 I don't think I ever will!