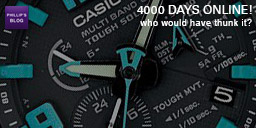 Today is PlanetPhillip.Com's 4000th day online.
I don't really make much fuss over anniversaries but this one seems kinda cool.
So, here are my thoughts from the last 3999 days…
1. I wish I had started smaller and less ambitious. Those that have been around a long time will know I started with EVERY game that had SP maps and mods available. The site was different back then in that it didn't try to list every map or mod with as much detail, but it was till too much. If I had started with Just Half-Life and Unreal stuff the site would be even better now.
2. I wish I had used a different name. When I first thought of it, PlanetRebook was popular and it seemed a good title. I own the RunThinkShootLive.com domain and wish I had thought of that from the beginning and used that. Too many people think the site is just a "blog" and technically it is, but it's much more than that too.
3. I wish I had started with forum software and customized that. I love how Interlopers.net runs their site – it's a forum with a frontpage. I'm pretty sure I could have made a forum look as "good" as the site does. I feel that my temporary attempts to add forums all hurt the site. If it was just a forum that might have helped.
4. I wish I had started to learn PHP, Javascript and SQL from day one. That way I wouldn't have to rely on anybody for new features.
There's no doubt the site is pretty good, but I still want to do so much more with it.
I wonder what it will look like in another 4000 days and I also wonder the state of the modding community and how many other websites are still around etc.
Let me have your predictions for the community itself.
Oh, talking of 4000, why not have a look at the newly restarted content Statistics page (not visitors and such, but the content of the site) and see if there's anything surprising.