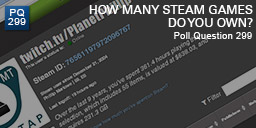 Somebody recently mentioned that he thought I had a lot of games. I had to look on my account to see how many I actually had. If I had had to take a guess without looking I would have said about 30. It was actually 60.
Then on Saturday I was chatting with somebody and looked at their account and they had 257, which I thought was a lot and just now I checked somebody out who has 513!
The whole thing got me thinking about how many games we buy and don't play etc etc.
The guy who has 513 is called Jon. Now Jon has created a cool website called My Steam Gauge that access publicly available data and displays some information.
For example, here is my account. It's not perfect, as he freely admits, because the information display how much a game currently costs, not what you actually paid for it. But it's still freaking cool. There's also the issue
I think there might be something wrong with my Steam account though, because it says I own Contagion and so does Steam but it's not in my Steam Library and when I click "Play Now" I get a blank pop-up window. That's not Steam Gauge's fault, but thanks to them I can address the issue. Just in case you are wondering I don't think I own the game, unless it was a gift and I have forgotten.
As a side note, I have written to Jon asking if it's possible to work together to add some information about your Steam account to the new Enhanced PP Profile. Remember – this information is publicly available to anybody who looks. Nothing private is displayed.
Interestingly, William contacted me last year about joining an podcast interview with a guy called TechAnalyst who has over 2,200 games. AND he doesn't have a special account – he actually bought them. Unfortunately, the interview never happened but the topic of game ownership via Steam and its regular Steam sales is an interesting one.
Final note
There are other websites that do this too, notably SteamDB.Info. In fact, for a few more Steam tricks, please check out the bottom of my Links page.
Time to Vote