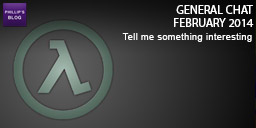 When I first typed this post I made a typo: "Fabruary". But maybe it was the universe tellking me something?
Maybe this could be a FAB (short for fabulous) month.
So, tell me something interesting….
Please use this post to talk about about anything you want to – except maps and mods, which should be done of the specific post, assuming there is one.