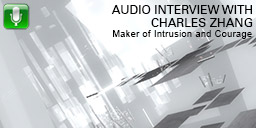 In this audio interview podcast, Charles and I discuss his mods Intrusion and Courage.
We chat about the mods, their creation and the deeper meaning.
Feel free to ask Charles your questions, as he has agreed to stop by and answer any you have.
Below are the images we discuss at the end of the podcast.
Listen to the interview
Loading…
Save the file
Audio Interview with Charles Zhang: 54 minutes 55 seconds – 50.2MB
Right click the button above to save the interview your computer.
Please note: Left clicking will not save the file.