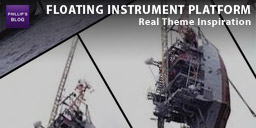 When I post items in my Real Themes category, I'm not expecting people to copy what they see, just take inspiration from it.
In this post I discuss a ship that is designed to go from horizontal to vertical.
It's called the RP FLIP (FLoating Instrument Platform.
FLIP is designed to study wave height, acoustic signals, water temperature and density, and for the collection of meteorological data.
Now, we know that the Combine have been draining the oceans, and maybe they created something similar but of course much bigger.
I almost kept this idea to use for the 6×10 Mapping Competition and call it RotationVille, but decided against it.
I feel that designing a layout that would work horizontally and vertically would prove an interesting challenge.
I am sure it's been done and look forward to reading the comments linking to games and mods that have done it, I just thought it might be nice to see something real.
Here is a 3 and a half minute video.
Screenshots
Click on the thumbnails below to enlarge the image.
WARNING: The screenshots contain spoilers.