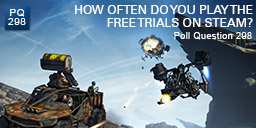 Originally, this poll was going to be about "Have you ever found a game in your Steam Library and have no idea how it got there?" because I saw Borderlands 2 in my Library and tweeted about it and helpfully Dan Jordan told me it was on free trial.
But then I realized that it probably never happens anyway – or does it?
So, this idea came from that one.
To be honest, I don't think I have ever taken advantage of a free trial. Basically, if I like the look of a game I buy it. That sounds a bit snobbish and I recognize that I should use these trials to play games outside of my usual genre.
I kinda wrote something along the same idea years ago called Game Radio Idea.
Well, there you have the background to this poll, but now it's time to let me have your thoughts on these free trails and don't forget to vote…
Time to vote