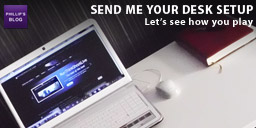 Years ago, a PP reader sent me an image of his desk setup and suggested I posted something about it. Well, guess what? I've finally got around to doing it!
Here's how it will work….
You send me an image of your desk setup, any notes and your name (if you want it included) and I'll post it. I'll randomly select a photograph and give a $5 game (via Steam) to the person. There must be a minimum of 20 photos sent in though and PlanetPhillip.com must be visible on the screen.
Please don't post images in the comments as they won't appear, same for links. Send them directly to me: [email protected]
So, let's get started.
PlanetPhillip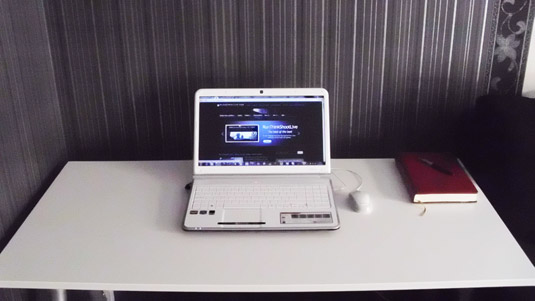 So, here's mine. Yes, I really do have my desk that tidy. Of course, I sometimes have other things on my desk, but generally nothing more than the laptop and diary. It's important for me to have the desk clear, so that it reflects my state of mind.
A. I.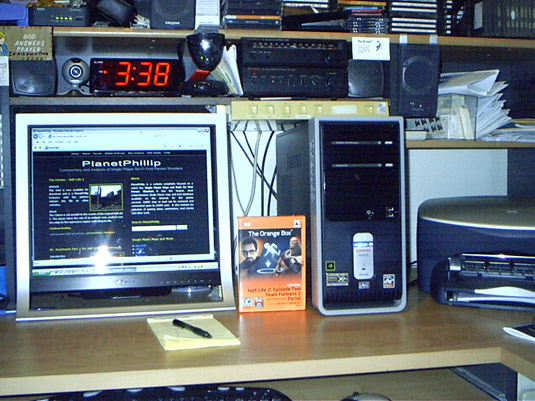 This is the image that was sent years ago. You can even see the old design of the site.
Louie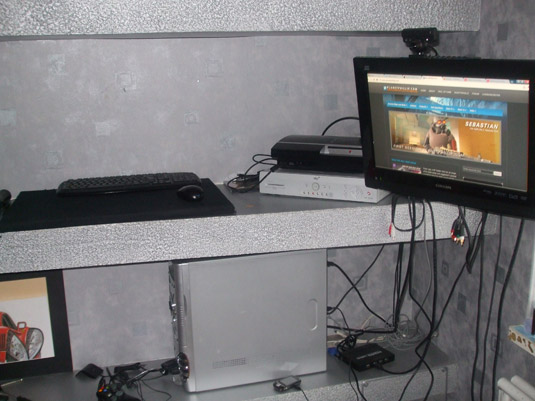 Apparently Louie can sit down and play but generally stands up.
Arturas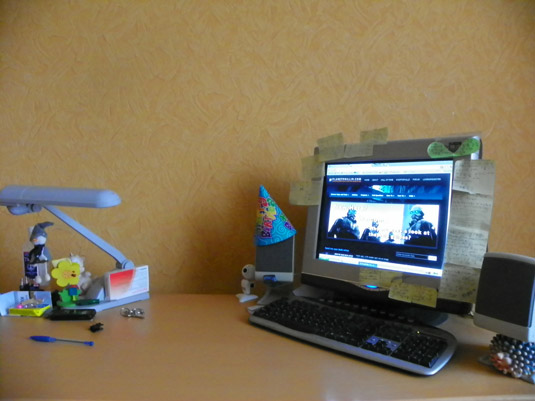 "All those sticky notes on the monitor are physics fromulas which i used during tests , I don't even remember why still they are there."
Laviniu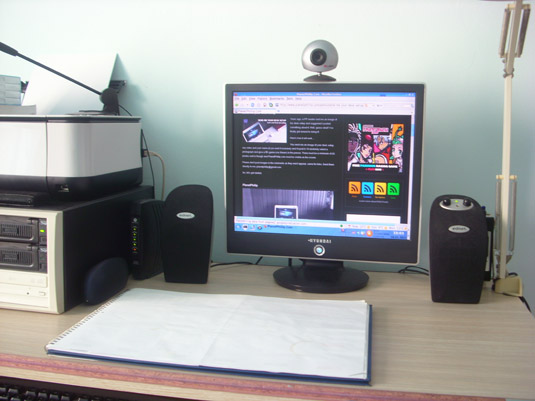 Fearlezz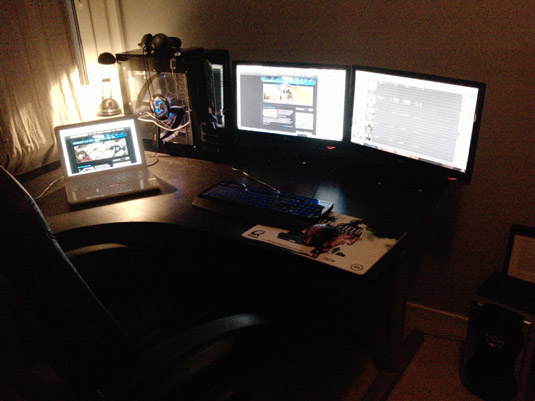 Galocza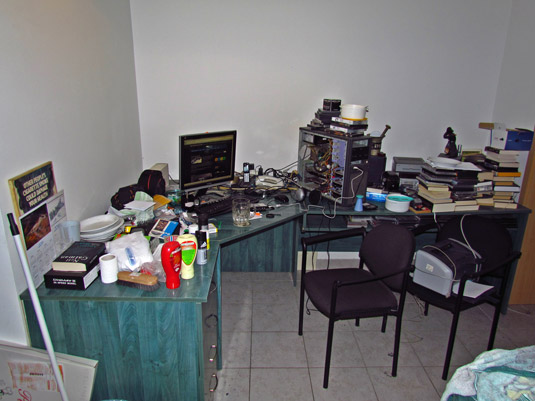 Eric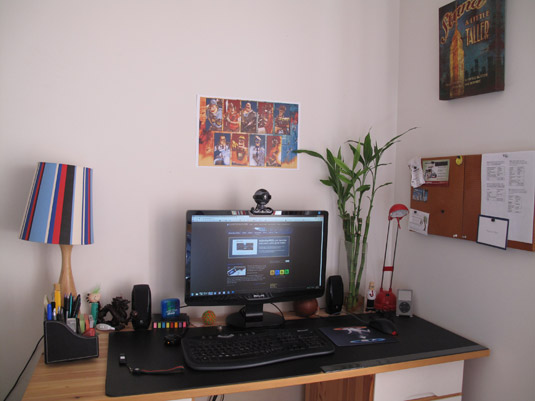 That guy with green hair is a pen. A dragon from China. Logitech S-220 speakers if I remember correctly. The circular thing is the volume control. The best cheap speakers around! Seashell (my lucky charm) TF2 fanart poster by Edotastic.deviantart.com Old Logitech webcam and crappy monitor (23″) The brown sphere is a Sheriff Woody Magic 8 Ball that I got right after watching Toy Story 3. You pull the string and Woody answers your Yes or no question humorously. Portal mousepad. Bamboo, because I felt my desk needed some life. I chose bamboo over other plants because they don't need soil and are easy to take care of. Dilbert. Old iPod (got a cheap case that allows it to stand up) and JVC Marshmallow Earbuds. Bulletin board thingy and a small painting that says, "Stand a little taller. Make each day a little better than the one before."
Lauri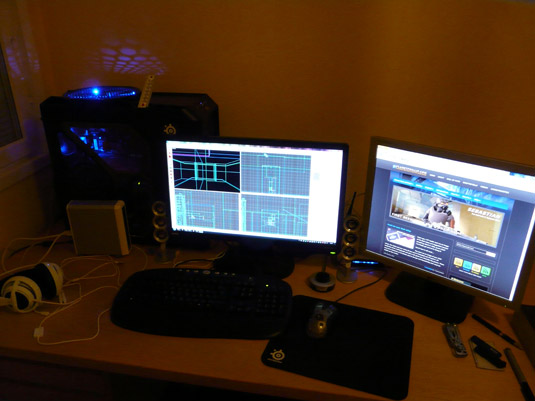 Samuli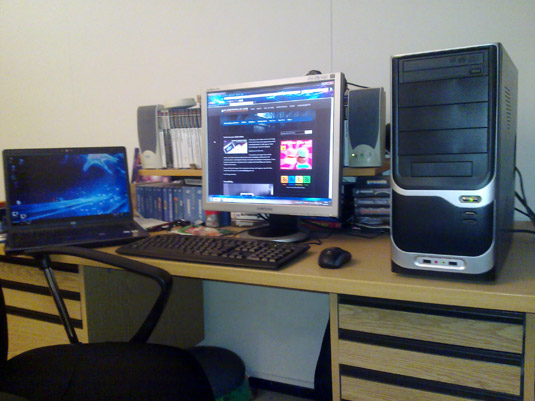 Here is my little desk setup from small student apartment (you really can't see it from the picture but my computer table takes around 1/4 of my room). Laptop isn't there most of the time. It is used only when I need second monitor for example to show reference pictures when mapping.
James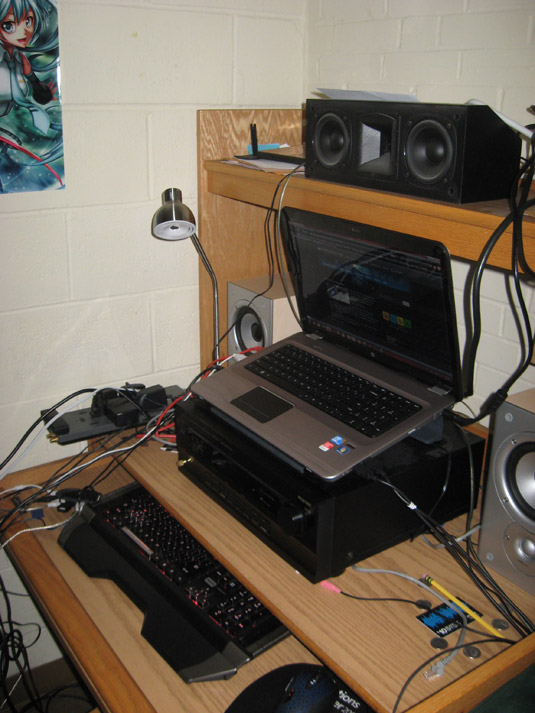 Esswok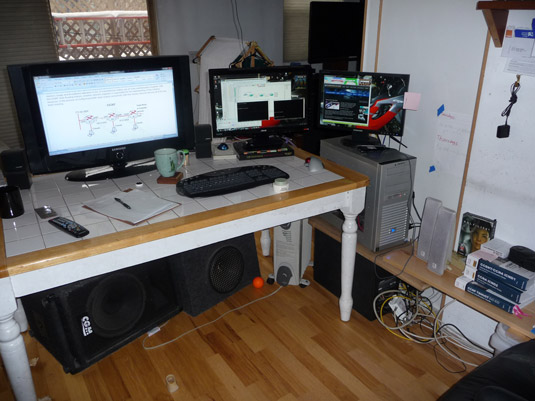 Zekiran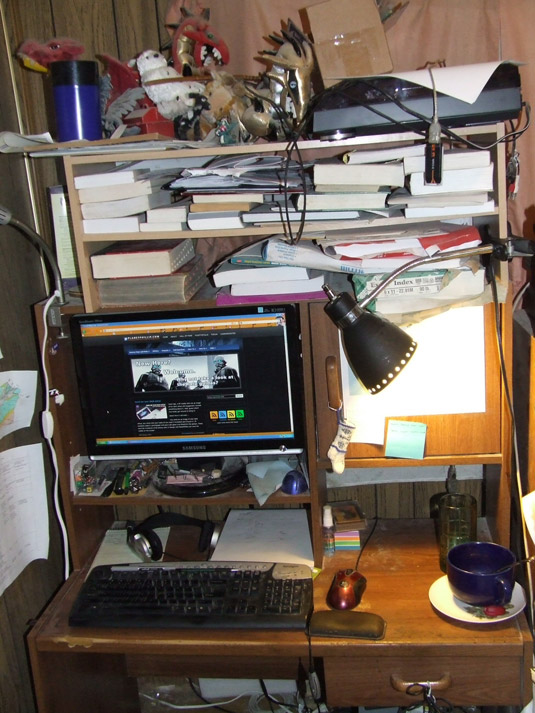 Mine has a good coating of dust on some parts, while others are always changing and reasonably clean. Up on top there are some dragon plushies including the red one named Brad the Drunken Frat Dragon. USB turntable, all those books are dictionaries from different languages, wildlife and name books. Of course I have my dice, space for food, and that's about it…
Alex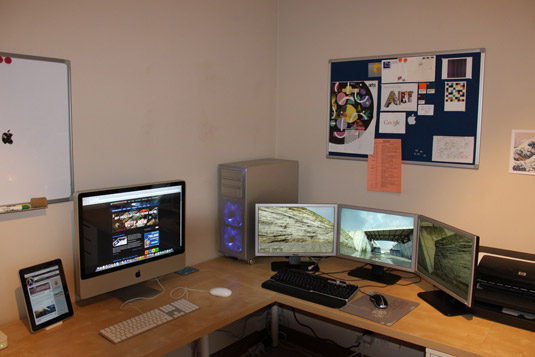 Close up of the surround displays, video of this at: http://www.youtube.com/watch?v=qNHdtZAMdco
Josh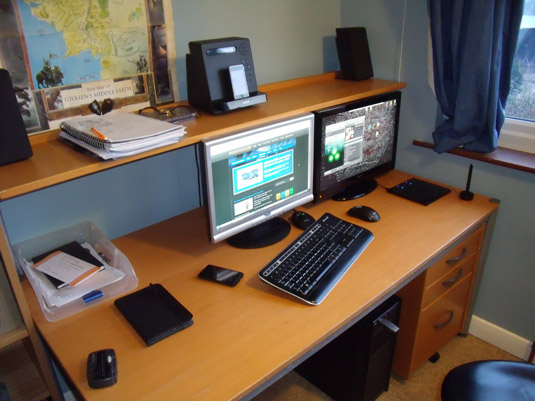 Duke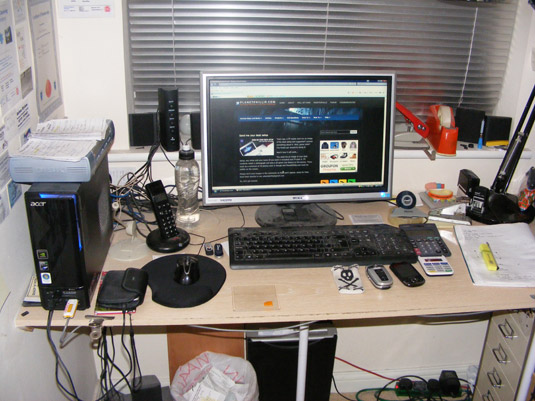 RustySpannerz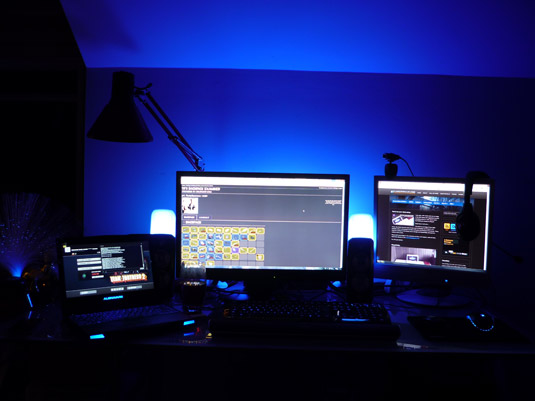 Zaglis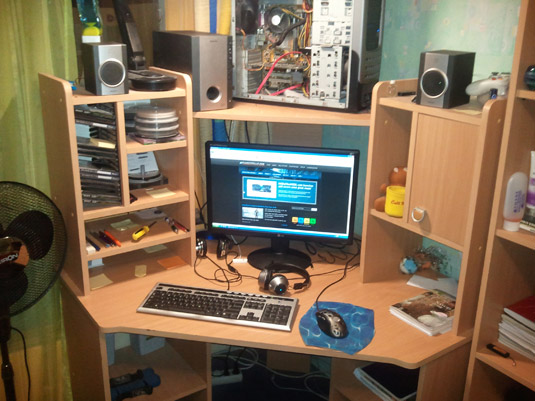 eXmortis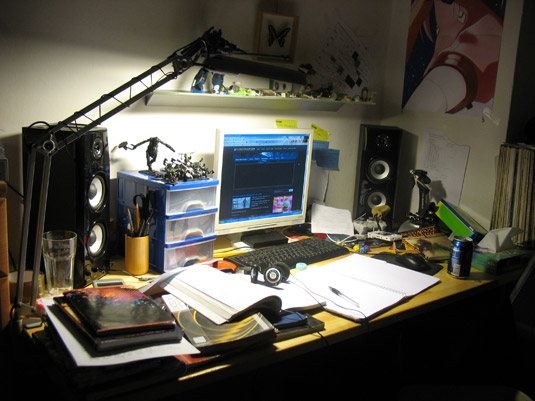 W Reade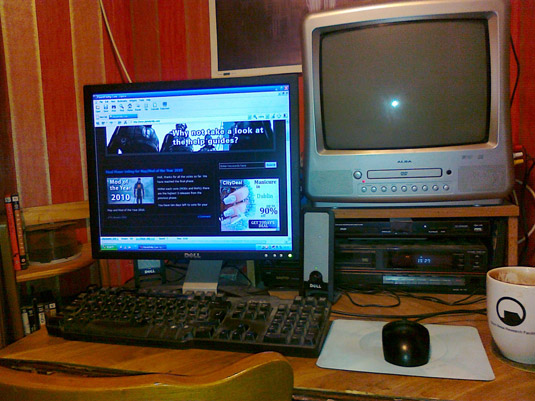 "I've gone for the all in one approach as my room's a little small, pc, video, vcr, dvd all on one table. I think the EM field might be melting my brains :)."
Jasper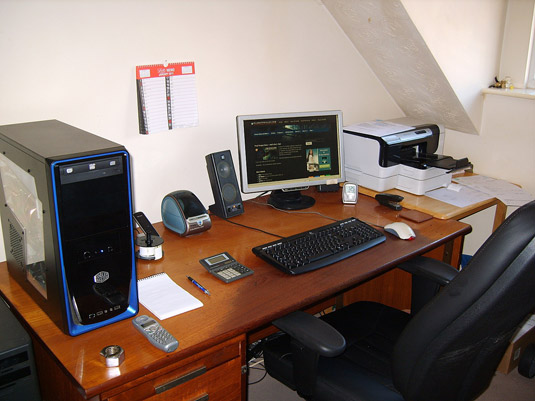 "Gin & Tonic removed."
Scraps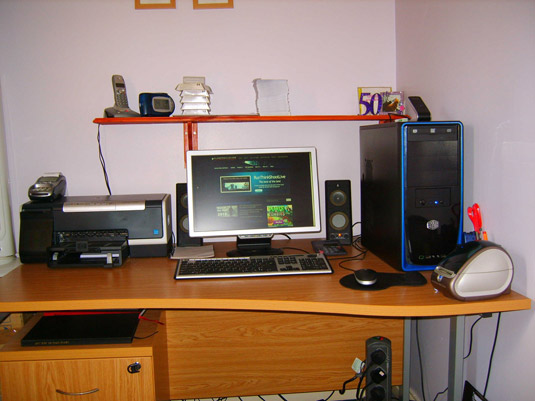 Major Banter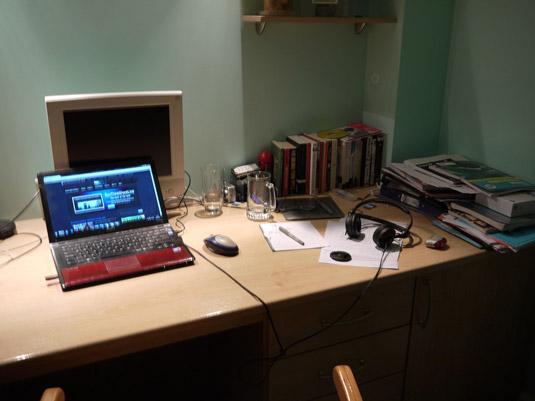 Considering that I'm stuck sharing a house with my parents until September and thus University, my insane laptop and assorted study/recreational books (from Bronte to Strugatsky) is a little…disorganised. Hence the Old Spice, HDDs and OCR revision books all in one pile.
Joepan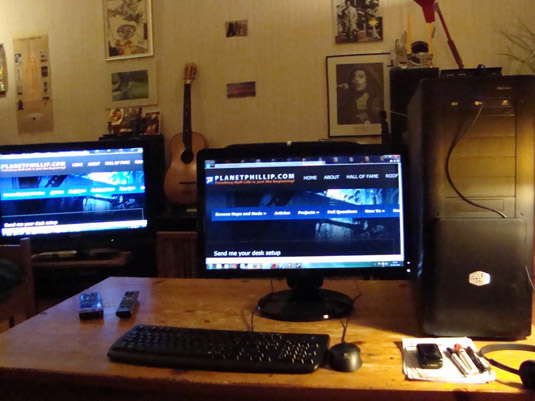 geekofalltrades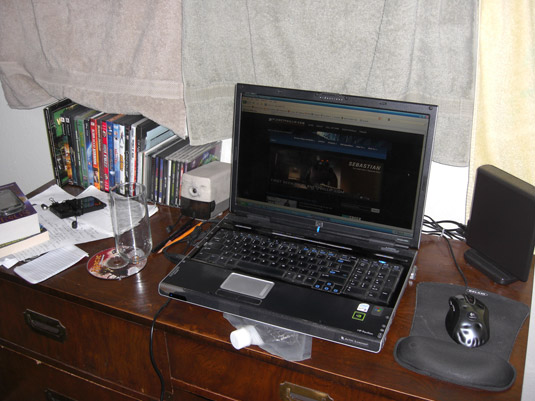 Note the water bottle slid up under the laptop – I keep that in the refrigerator until I'm about to play a game, then I slide that under there, because otherwise, the laptop overheats and winks off (it's about five years old now, and no love is lost between it and me [NOTE FROM LAPTOP: HE'S A JERK]). The back two corners are propped up with those little freebie containers of dental floss you get at the dentist, making me probably the first person to ever actually find a use for them.
sethen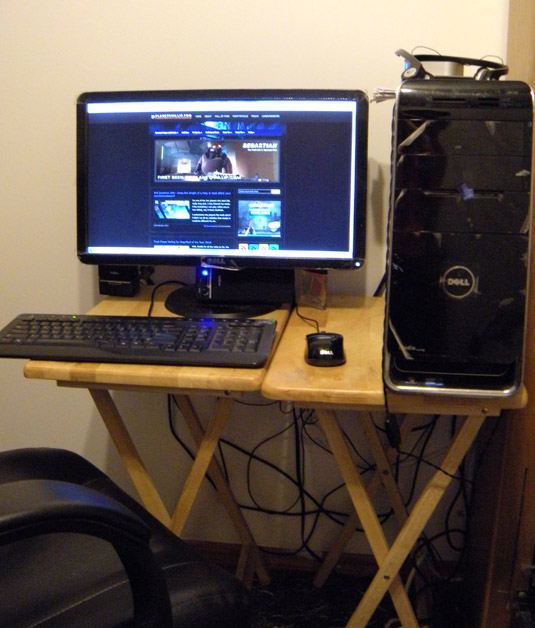 Hec