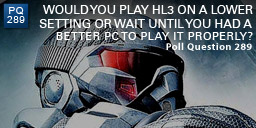 Here is another HL3 Question. Seeing a pattern? Think I know something you don't?
Anyway, assuming you have a regular PC and not some fancy, screaming fast machine, if HL3 was released next week would you play it straight away on a lower graphical setting or wait until you had a machine that could run it properly?
This question came up a long time ago for me with regard to Crysis. The machine I had just couldn't run it properly except on its lowest setting. It kinda spoilt the experience for me and I have never gone back.
Now, I know Valve is very different from Crytek and the chances of HL3 requiring a beast of a machine is unlikely, but it certainly may require something better than you have now.
Unfortunately, I feel obligated to play it immediately, because people will hopefully release maps and mods fairly soon after its release and I would need to post those.
But what about you?
Remember, if you have a great machine, this poll isn't really for you.
Time to vote