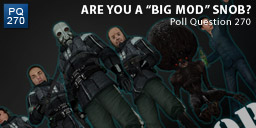 Here is a question for you. Are you a big mod snob?
I have a feeling that many of you are.
You "look down" on anything that's not longer than 60 minutes with derision.
Recently I have been reading Somerset Maugham's short stories and whilst they have a familiar feel they are set in many different situations and settings. Reading these stories reminded me of Miigga's work. All too often you see comments from readers asking for a longer mod from him.
It seems a natural and fair question. I know the reason for his lack of longer mod and you will too, if you lsiten to the audio interview with him.
But I wonder if we are right to "expect" him to make something longer.
Have we become big-mod snobs without realizing it?
When did we stop enjoying and respecting smaller mods? Was it because a few authors started making much bigger mods and then we unconsciously believed that anything short was inferior?
You only need to look on places like ModDb to see comments like I really enjoyed it, but since it was so short I only gave it 6/10.
That's very unfair in my mind. Things should be judged for what they are, not for what they could have been or what we wanted.
Time to vote