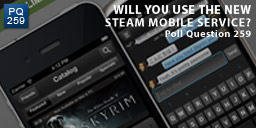 Just launched my feed reader and saw that Valve has introduced a Steam Mobile service.
Here's their blurb… " gamers around the world may chat with Steam friends, browse community groups and user profiles, view screenshots and user-generated content for their favorite games, read the latest gaming news, stay up to date on unbeatable Steam sales, and more."
Sounds pretty cool and I was thinking of installing Steam on my new netbook, even though I can't run games on it, I thought it might be nice to chat with people etc. Just because I can't play games on the netbook, doesn't mean I don't want to stay connected.
Now, I don't have a smart phone but if I did, this might be a pretty cool new app.
So, will you use it?
Time to Vote!