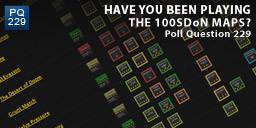 Well, here we are after nearly 3 weeks of 100SDoN and I thought I would use this week's poll question to find out how many PP readers are playing the maps and mods.
Besides the really crappy maps and the pressure of having to add one map or mod every day I am really enjoying the whole thing. In fact, so much so I think I'll try and run something similar 3 times a year – of course, not 100 days though.
Anyway, the maps themselves have obviously a wide range of quality but considering how old some of them are I have to admit to being quite impressed. I've even been thinking of having a Half-Life 1 mapping competition!
I'd love to hear you thoughts on the event so far, even if you haven't been adding reviews.
The Poll