Update: MapTap has been replaced by Gauge.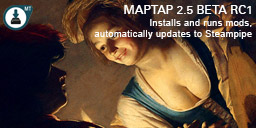 This beta version has a few new features.
First and foremost you can use it to install AND run mods. The ability to install mods has been available since 2.3 bt you had to open Steam to run them – not any more.
Secondly, but actually just as importantly, MapTap now automatically updates older mods to run in Steampipe! Yes, that's right. Take an older mod from PP that doesn't have the correct gameinfo.txt format and MapTap should do it for you. No messing about with text editors and copying and pasting etc.
Of course, it might not work every time, but it's a darn sight better than having to do it manually.
THIS IS BETA!
No, this is not SPARTA but BETA. This means that if you download the software, please be prepared to supply feedback about its use. I specifically would like to know which mods on PP, besides EP1 mods, don't work after isntalling them with MapTap. With this information we should be able to improve it.
Feedback should be provided using the comments system on this post or direct email: [email protected] Pleae provide as much information as possible. Emails or comemnts with "It crashed" will be ignored. What mod were you trying to install? What Operating system are you using? And any other information you can provide is needed.
Important Note
The automatic update mechanism has been disabled. This means that you will have to manually check when new versions are available.
Known Issues
The "Open Install Folder" doesn't work for mods
The chapter titles are not displaying correctly.
The pop-up window telling you to open Steam to run mods is still popping up – ignore it.
The "Open Review" page works intermittently for Source Mods.
DISCLAIMER
As with all versions of MapTap, it may not work as expected. You accept ALL risk involved. Of course, we don't believe there will be any adverse affects, but it's still not our fault if something goes wrong.
It is only designed to work on Microsoft Windows.
Download the update
Download the update to your HDD [6.03MB]
You have read the disclaimer, haven't you?
Download the full installer
Download the full install to your HDD [10.9MB]
You have read the disclaimer, haven't you?
The Painting
MapTap posts use Dutch Master Paintings as a background. This painting is from Gerard van Honthorst called The Procuress or Matchmaker. You can see more of his work on gerrit-van-honthorst.org.