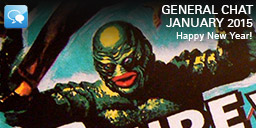 HAPPY NEW YEAR!
So, here we are and it's 2015. What are your gaming hopes and dreams for this year?
I'm not going to bore you with mine except to say that I am going to play more games this year.
Obviously, I have objectives for the site but I think it's better to just forget shouting about them and get my head down.
The move to the new domain has had to be delayed a little bit because the new theme is not working quite right and it's better to do a "Valve" and move when it's ready rather than on a specific date. That said, I don't think it will be delayed long.
Anyway, over to you, let's chat.
This Month's Sci-Fi Movie
In June, I started to use a poster from a classic Sci-Fi move as the background for the post image.
This month it is from The Creature Walks Among Us (1956). In this third Gill-Man feature, the Creature is captured and turned into an air-breather by a rich mad scientist. This makes the Creature very unhappy, and he escapes, killing people and …