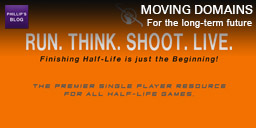 After considerable thought, I have decided to move the site to a new domain.
I am doing this to present the site as more than just one person's blog.
Over time, there may be other small but important changes, for example, taking on staff for specific tasks or roles.
I don't have an exact date for the change over, but I am planning towards 2nd January 2015, but it may be a little later. This depends on other people and I will just have to wait.
When the time comes, you will automatically be redirected to the new domain.
The new domain is RUNTHINKSHOOTLIVE.com. This domain currently hosts the development theme.
If you are interested in providing feedback on the new theme, please email me. I will add you to the list and send emails about specific aspects of the site I am working on.
Please don't visit the site and send me an email with all the things you don't like. I it is a work in progress. Many things you might not like might not be in the final version.
Feel free to try the site, but know that it's just a development site and no comments will be kept – please continue to use the PP site.
This theme has better navigation and less options. For example, the Personalizer is no longer needed as the new archive pages have an incredible live search/filter that will blow your mind.
If you have any questions about the change, please feel free to ask.