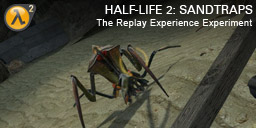 This is the eighth chapter of Half-Life 2. It details the second half of Gordon Freeman's journey to Nova Prospekt.
After crossing through the last part of the coast without the Scout Car, he encounters the first Antlion Guard of the game.
After defeating the Antlion Guard, a Vortigaunt extracts a pheropod from the body, which allows Gordon to control antlions, and trains Gordon in its usage. Gordon then continues along the coast, leading groups of antlions and battling Nova Prospekt guards on his way into the prison.
Trivia
The Spanish name for this level is Bunkers.
The name of the chapter is a reference to the golf term Sand Trap, also known as bunkers.
After passing the bunkers, the two large pipes coming down along the mountain is very similar to the pipes in the canyon in Surface Tension.
Achievements


Screenshots
Click on the thumbnails below to open a 1024 pixel wide image.
WARNING: The screenshots contain spoilers.
The Replay Experience Experiment
This post is part of the The Replay Experience Experiment event. This is a chance to replay all the Half-Life games and discuss them based on our experiences since we first played them.
Hat Tip
The intro and trivia text are taken from the CombineOverWiki, a fan-supported, editable wiki covering the Half-Life series of games.
Walkthrough
On the left is a complete text walkthrough for Half-Life 2.

It has been written by Stanley E. Dunigan and updated with all the tricks and tips from PlanetPhillip.Com readers.

It is in PDF format, meaning you can open it directly in modern browsers or download it and print it.

(Left-click to open and right-click to save)
Do Not Own This Game?
You can purchase Half-Life 2 directly through Steam and could be playing in within moments, depending on your internet connection.