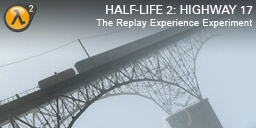 This is the seventh chapter of Half-Life 2. Freeman is informed that Eli Vance has been taken to Nova Prospekt, and sets out on a journey along Highway 17 to rescue him.
The player encounters Combine Soldiers for the first time, as well as a new type of Xen alien, the Antlions.
Colonel Odessa Cubbage is also met in this level, giving Gordon the RPG, which Gordon uses to defend a Resistance outpost from a Combine Gunship.
Trivia
If the player loses the buggy, either by punting it into the sea with the Gravity Gun or by getting hit by the Razor Train, the message: "Assignment: Terminated. Subject: Freeman. Reason: Failure to preserve mission-critical resources." will be displayed.
Achievements




Screenshots
Click on the thumbnails below to open a 1024 pixel wide image.
WARNING: The screenshots contain spoilers.
The Replay Experience Experiment
This post is part of the The Replay Experience Experiment event. This is a chance to replay all the Half-Life games and discuss them based on our experiences since we first played them.
Hat Tip
The intro and trivia text are taken from the CombineOverWiki, a fan-supported, editable wiki covering the Half-Life series of games.
Walkthrough
On the left is a complete text walkthrough for Half-Life 2.

It has been written by Stanley E. Dunigan and updated with all the tricks and tips from PlanetPhillip.Com readers.

It is in PDF format, meaning you can open it directly in modern browsers or download it and print it.

(Left-click to open and right-click to save)
Do Not Own This Game?
You can purchase Half-Life 2 directly through Steam and could be playing in within moments, depending on your internet connection.