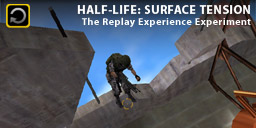 After arming himself with advanced prototype weaponry, Gordon again reaches the surface. It has become a war zone. The Vortigaunts, along with Alien Grunts and Gargantuas, have begun making determined attacks against the Marines, and the tide of the battle is beginning to turn in favor of the aliens.
The Marines call in reinforcements, but it isn't enough. Gordon must scale cliffs and navigate the bombed out buildings while avoiding both sides as the forces of Xen begin to dominate the battlefield. Finally, Gordon reaches relative safety underground.
Trivia
The original name of this chapter, Cliff Hanger, was used on E3 1998.
Like "Half-Life", "Blue Shift", "Opposing Force" and "Decay", "Surface Tension" is a scientific pun, referring to the properties of water which makes certain objects float above it.
A part of a map in this chapter was used to create the map Hunted in Team Fortress Classic.
The canyon scene was mirrored at the end of the Half-Life 2 chapter Sandtraps, the Headcrab in the last pipe being replaced by a Fast Zombie. The Apache scene is also mirrored at the end of Lost Coast.
The Chopper which hunts the player down some point of the chapter can be destroyed using a fully charged Tau Cannon.
The player can make the Chopper destroy itself by letting it see you when it first arrives in the map, firing rockets at you, and the rocks (which kill the Chopper as it is in the explosion radius.
This chapter takes place at the same time as the Half-Life: Opposing Force chapter "We Are Pulling Out".
The Poll
Challenges
The challenges below have been set by 2muchvideogames
Kill an APC with its own rocket.
Kill 3 snipers.
Pick up 2 tripmines in the tripmine-infested building.
Saves
MEDIUM: 100 Health 8 HEV [157KB]
HARD: I need a HARD save for this level. Do you have one? Please send it to me.

Screenshots
Click on the thumbnails below to open a 1024 pixel wide image.
WARNING: The screenshots contain spoilers.
The Replay Experience Experiment
This post is part of the The Replay Experience Experiment 2012 event. This is a chance to replay all the Half-Life games and discuss them based on our experiences since we first played them.
Hat Tip
All text taken from the CombineOverWiki, a fan-supported, editable wiki covering the Half-Life series of games.
A Complete Half-Life Walkthrough
On the left is a complete text walkthrough for Half-Life.

It has been written by Stanley E. Dunigan and updated with all the tricks and tips from PlanetPhillip.Com readers.

It is in PDF format, meaning you can open it directly in modern browsers or download it and print it.

(Left-click to open and right-click to save)
Do Not Own This Game?
You can purchase Half-Life directly through Steam and could be playing in within moments, depending on your internet connection.