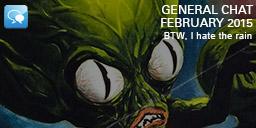 OMG, it hasn't stopped raining for about a week. The small underpass at the end of my road flooded on Friday and we've had snow-like hailstones today. YUCK. Hope it gets better.
February is here and I haven't posted that many maps and mods, so sorry about that.
To be honest, this new theme is taking almost all my time, I'll be glad when it's live and I can concentrate on CONTENT!
Anyway, over to you, let's chat.
This Month's Sci-Fi Movie
In June, I started to use a poster from a classic Sci-Fi move as the background for the post image.
This month it is from Invasion of the Saucer Men (1957). A teenage couple making out in the woods accidentally runs over an alien creature with their car. The creature's hand falls off, but it comes alive, and, with an eye growing out of it, …
You gotta love those HUGE heads. They look quite a lot like controllers don't you think?