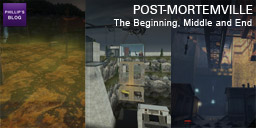 Now that BeginningVille, MiddleVille and EndVille have been released, I thought it might be nice to look back at the competition.
I have to admit that after every competition I say to myself "This is the last one" and this one is no different.
Perhaps I set my hopes too high and dream of ten entries for each competition – each one a really interesting interpretation of the theme.
Some Quick Stats
I'm not taking these statistics too seriously, I just feel they should be mentioned.
Downloads
I know that I only released EndVille yesterday but whenever you do the download stats they won't be fair.
BeginningVille: 860 downloads
MiddleVille: 406 downloads
EndVille: 81 downloads
Of course, let's see in a few months, but I fear people's interest has dropped since the first one.
Entries
How many people entered, irrespective whether they were on-time or not.
BeginningVille: 5 entries
MiddleVille: 2 entries
EndVille: 3 entries
Now, the time of year could definitely have something to do with this.
Recommendations
Again, like the downloads, this will change for EndVille
BeginningVille: 9 recommendations, average score: 4.89 (out of 5)
MiddleVille: 4 recommendations, average score: 3 (out of 5)
EndVille: 2 recommendations, average score: 5 (out of 5)
No doubt the quality of entries plays a significant part of the above.
My Personal Feelings
When I first thought of this series, it seemed so much better in my head. The general concept seemed solid and I definitely had high hopes that it would help some modders build a proper mod. However, I have to admit I did a very poor job of defining, explaining and promoting the competition.
I had planned to make a video intro and do a better job of promoting it.
A good example is that I haven't even built the 3×24 page that I have been linking to!
This is most likely the last mapping competition series as it seems that modders can't commit to such a long time scale. Even if I had done my job properly, I doubt it would have made much difference to the number of entries. or perhaps I am just trying to rationalize my failure.
I feel the themes worked quite well but after having read the readme.txt from Of Talons and Wings, I wonder if my reviewing and judging could have been more scientific. In fact, I think I'll ensure that any requirements for future mapping competitions are discussed in each map's review, along with perhaps a scoring system.
I do want to run more competitions, but perhaps I need a definite schedule of events through the year, so that mappers can better plan their work. There's always discussions about the length of time given and people always complain it's never enough. But anything too long and people lose interest.
I definitely need to encourage the use of the BetaTestersCollective and I think I will make that part of the rules next time, building in a period of testing. As well as a means of encouraging more interaction between the announcement and deadline.
Now, the prizes have always been vague and that probably didn't help. I admit to not wanting to offer $100 per competition only to have two entries, neither worthy of the prize but perhaps I have to take a long term view. Maybe, $15 per competition with a $100 bonus for the best proper mod. I don't know. If I don't run a series competition again then it doesn't matter.
I do need to be clearer about the prizes though – even though nobody enters just for the prize. I was trying to source something special for this one but it didn't work out. I'll keep pondering this point.
Final Mods?
Now that it's finished, I hope a few modders will take any unfinished work, along with whatever they released and polish it up a bit and send it to me as a proper mod.
I would feel as though I had at least achieved something with this competition.
Your Thoughts
I'd love to hear what you think about the whole series and any ideas, suggestions or changes for possible future competitions or events.