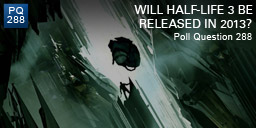 There's lots of talk about the Steambox and other Valve related stuff but let's not forget HL3 – not that I thought you had!
In case you didn't know there's a Twitter account called IsHL3OutYet to let you know. Not that you would actually need it as I am sure everybody and their cat will hear about it within 1 minute of the official announcement.
Anyway, do you think it will be released this year? I'm not sure but obviously I hope so. My biggest concern is that I will need to buy new hardware to run it, which is going to be a serious problem for me.
Time to vote