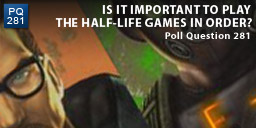 I saw this question on Reddit, which by the way has some very interesting discussions about Half-Life, and thought I would repeat it here.
The question is whether it is important to play the Half-Life games in order.
Putting aside the obvious difference in graphics and physics, it really comes down to the story and details. How important is knowing context and what has happened before?
Let's consider movies or books. Is it important to watch the Matrix movies in order? Only if the story is important. If you just want to see action and effects, then no, it's probably not that important.
But it's also hard not to discuss the obvious difference graphics. Players nowadays generally laugh at the blocky nature of Half-Life compared to Episode Two. For some, that change is just too great, in which case playing the older games may have a negative effect on the series perception.
Personally, I recommend people play them in order. For me it would be like playing a levels of a game out of order.
What do you think.
Your Chance to Vote!