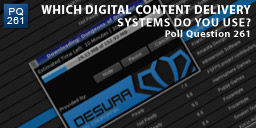 I got an email from GameFly last week, trying to sell me their service. You can rent games or something, I don't really know or care.
It seems that they have bought or merged with Direct2Drive, so they also have a client like Steam. I even have a code for 30% discount on my first purchase, plus a code for 30 days free rental service. If any reader would like them, please contact me – first come, first served.
Got me thinking about what other choices we have besides Steam.
Personally, I am very happy with Steam, sure I can pick a few holes in it, things I don't like, it's policies etc, but all in all I ma very happy with and commend Valve's vision.
I certainly wouldn't want to have too many of these things on my PC though.
What about you?
Time to Vote!
You can select multiple choices.