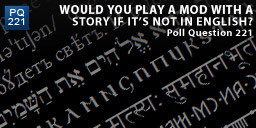 Let me clarify the question. You find a new mod on PP that apparently has a really good story but the voice acting is only in a language you can't speak.
Do you still play it knowing that you won't understand anything – nada, rien, ingenting, ei mitään, hичего, niente, tίποτα, kuch nahin, niets, 무가치, nashi, ekkert, nihil, gar nichts? (Sorry, I got carried away with the translations!)
Some mods have subtitles, which is good, but not all. I am not suggesting that all mods MUST have English voice acting, because I don't think they should. However, having English *may* help the mod get more coverage and exposure.
I've definitely played some Russian mods that didn't have any English, either voice acting or subtitles and it was fine. Of course, they were action mods and let's be honest, most of the time the script is not that great anyway.
I suppose it comes down to the type of mod. Alternative mods probably require it more than others. Imagine playing Dear Esther and not understand anything. Would kinda ruin it, don't you think?
Actually, now I think of it, doers anybody know if they will be releasing non-English versions?
The Poll – Get Voting!