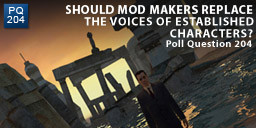 Last weekend I posted Joutomaa Redux, which featured a custom G-Man voice and today I beta tested a great new mod, that features a custom Barney voice.
Both mods got me thinking whether it was acceptable for mod makers to change the voice of established characters.
On the surface it seems an easy answer; of course they should. It allows mod makers the chance to tell stories and keep things within the HL universe.
But before I get people saying "It depends"! Yes, it does depend on the quality of the voice acting and the closeness to the original, but even then we have to worry about how well written it is.
You may remember the mod Outpost 16 where Alyx started swearing like a sailor and some felt that was wrong.
So what we are talking about here is not just similarity and quality BUT also the script itself.
I say YES, even if we do get the odd dodgy recording or script, I think in the long run it better than not having these characters used.
Actually, it's a pity that the community hasn't started a group that creates new, interesting and realistic characters that can be used by modders with custom voices.
On a side note, this is effectively the fourth anniversary of the weekly poll question. I can't believe I have been posting a question every week for four years!
The Poll