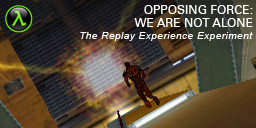 It serves as a short interlude in the game with reminders of events from the original Half-Life.
Having arrived at the Lambda complex, Adrian Shephard sees Gordon Freeman teleported to Xen.
Shephard is also forced to travel through Xen to find a way out of the Lambda complex.
Trivia
This chapter takes place at the same time as the Half-Life chapters Lambda Core and Xen.
A Chumtoad is hidden in a vent towards the beginning.
If you run quick enough, you can follow Freeman through the portal, but you will end up falling to your death in Xen and get the message that you were eliminated to prevent creating a paradox. Also, when entering to Xen, this title will appear "C4A1TITLE".
The Poll
Challenges
Visit the Hazard Course.
Sacrifice yourself to save the scientist from falling to his death.
Saves
Screenshots
Click on the thumbnails below to open a 1024 pixel wide image.
WARNING: The screenshots contain spoilers.
The Replay Experience Experiment
This post is part of the The Replay Experience Experiment 2012 event. This is a chance to replay all the Half-Life games and discuss them based on our experiences since we first played them.
Hat Tip
The trivia text taken from the CombineOverWiki, a fan-supported, editable wiki covering the Half-Life series of games.
Walkthrough
On the left is a complete text walkthrough for Half-Life: Opposing Force.

It has been written by Stanley E. Dunigan and updated with all the tricks and tips from PlanetPhillip.Com readers.

It is in PDF format, meaning you can open it directly in modern browsers or download it and print it.

(Left-click to open and right-click to save)
Do Not Own This Game?
You can purchase Half-Life: Opposing Force directly through Steam and could be playing in within moments, depending on your internet connection.