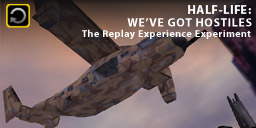 This chapter finds Gordon Freeman making good progress, passing through various storage and staging areas, continuing his hunt for a way to the surface. Gordon learns that the soldiers rumored to be coming on a rescue mission have already arrived.
He attempts to join up with them, but walks into a room to witness a Marine killing a scientist. It is then that he discovers that the Hazardous Environment Combat Unit, which has taken control of Black Mesa, is not just killing the aliens, they are also killing everyone connected to the project, including himself.
When he eventually reaches the surface, Gordon finds himself in an area totally under the control of the military and, worse, in the middle of an artillery bombardment – taking cover, he is forced back into the underground complex. However, it is revealed that the surviving members of the Lambda Team (in the Lambda Complex at the other end of the facility) may be able to close the dimensional rift. Therefore, Gordon begins the journey across Black Mesa to reach them.
Trivia
In the beginning of the chapter, a scientist is seen screaming about opening the silo doors. You can crowbar him once, and he can run into the door to the office. In the office (where the zombie drags the guard into the air vent) you can press the button to open the silo door, and continue to Blast Pit, without needing to complete the entire level.
The Poll
This doesn't include the non-stop spawning ones.


Challenges
The challenges below have been set by 2muchvideogames
Don't let any scientist in this chapter die (8 total).
Destroy the Osprey.
Screenshots
Click on the thumbnails below to open a 1024 pixel wide image.
WARNING: The screenshots contain spoilers.
The Replay Experience Experiment
This post is part of the The Replay Experience Experiment 2012 event. This is a chance to replay all the Half-Life games and discuss them based on our experiences since we first played them.
Hat Tip
All text taken from the CombineOverWiki, a fan-supported, editable wiki covering the Half-Life series of games.
A Complete Half-Life Walkthrough
On the left is a complete text walkthrough for Half-Life.

It has been written by Stanley E. Dunigan and updated with all the tricks and tips from PlanetPhillip.Com readers.

It is in PDF format, meaning you can open it directly in modern browsers or download it and print it.

(Left-click to open and right-click to save)
Do Not Own This Game?
You can purchase Half-Life directly through Steam and could be playing in within moments, depending on your internet connection.