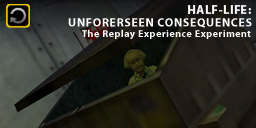 As Gordon Freeman's efforts to reach the surface to get help in the aftermath of the Resonance Cascade just begin, more problems get in his way.
The building starts falling apart in his face, and mysterious alien creatures materialize from thin air. Gordon is given his trademark crowbar, and more weapons and hazards entail.
After being told that all communication outside Black Mesa has been lost, Gordon is requested by his colleague Eli Vance to try to make it to the surface in order to acquire help. Black Mesa has received massive structural damage, and to make matters worse, aliens from Xen, the border world, begin randomly teleporting all around them. Most are simply reacting naturally to their new surroundings, but even more hostile are the creatures Gordon saw earlier (known as Vortigaunts). Also, strangely, Gordon occasionally witnesses the man in the suit, the G-Man, watching him from out-of-reach places, always walking off before Gordon can get to him.
Since the tram is too damaged to work, Gordon must cross Sector B's Coolant Reserve Facility in order to find a way out.
Trivia
The green and red button on the laptop (the one that is locked to prevent Gordon from using it) from Anomalous Materials has changed to a white button.
The door leading to the monorail can be opened after the Resonance Cascade by destroying its monitor (or the controller). Through the door a scientist can be found, who will fall to his death. Ammo can also be found there.
The title alludes to the G-Man's words to Eli Vance prior to the Resonance Cascade, where he told him to "prepare for unforeseen consequences". As revealed by Eli to Gordon in Half-Life 2: Episode Two, the G-Man is where he got the alien sample from.
The Poll
Screenshots
Click on the thumbnails below to open a 1024 pixel wide image.
WARNING: The screenshots contain spoilers.
The Replay Experience Experiment
This post is part of the The Replay Experience Experiment summer 2012 event. This is a chance to replay all the Half-Life games and discuss them based on our experiences since we first played them.
Hat Tip
All text taken from the CombineOverWiki, a fan-supported, editable wiki covering the Half-Life series of games.
A Complete Half-Life Walkthrough
On the left is a complete text walkthrough for Half-Life.

It has been written by Stanley E. Dunigan and updated with all the tricks and tips from PlanetPhillip.Com readers.

It is in PDF format, meaning you can open it directly in modern browsers or download it and print it.

(Left-click to open and right-click to save)
Do Not Own This Game?
You can purchase Half-Life directly through Steam and could be playing in within moments, depending on your internet connection.