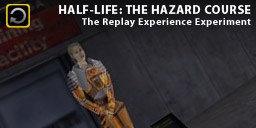 The Training Facility at Black Mesa houses the Hazard Course to help users of the HEV Suit hone their skills at jumping, crouching, and combinations of both – everything you're going to need to worm your way out of a facility that's crashing down at your heels as aliens appear in flashes of green light all around.
Scientists observe from windows on the side, marking your performance on clipboards. They congratulate you on doing well and you aim to impress. Towards the end, there is instruction on how to use the Long Jump Module, as well as instructions on how to interact with objects in the environment.
Trivia
In Opposing Force, the player can visit the Hazard Course at the duck-jump training room by using the Displacer Cannon in Xen, where Adrian Shephard first acquires it. The room appears to still be functioning, as the Hologram and success markers still function. A nearby Vortigaunt mistakes the Hologram for a real person, attacking it. It soon realizes that the Hologram is fake, and proceeds to attack the player.
In Half-Life: Decay, one of the chapters happens to be Hazardous Course, in which Doctors Colette Green and Gina Cross walk through the destroyed remains of the course. The Hologram in the course is Gina Cross, one of the main characters in Decay.
The Poll
Screenshots
Click on the thumbnails below to open a 1024 pixel wide image.
WARNING: The screenshots contain spoilers.
The Replay Experience Experiment
This post is part of the The Replay Experience Experiment summer 2012 event. This is a chance to replay all the Half-Life games and discuss them based on our experiences since we first played them.
Hat Tip
All text taken from the CombineOverWiki, a fan-supported, editable wiki covering the Half-Life series of games.
A Complete Half-Life Walkthrough
On the left is a complete text walkthrough for Half-Life.

It has been written by Stanley E. Dunigan and updated with all the tricks and tips from PlanetPhillip.Com readers.

It is in PDF format, meaning you can open it directly in modern browsers or download it and print it.

(Left-click to open and right-click to save)
Do Not Own This Game?
You can purchase Half-Life directly through Steam and could be playing in within moments, depending on your internet connection.