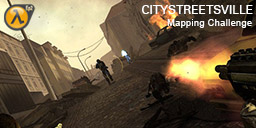 For this mapping challenge, I would like you to create a map that is set in and around the streets of a city.
It doesn't mean you have to stay ON the streets all the time. You can go under or over them, you can drive through parts too if you wish. There could be plenty going on, with Rebels around you or a dark and atmospheric setting.
The player could work their way through destroyed buildings or fight on pristine streets.
It's your decision.
Deadline
I was late announcing this challenge, so I have extended the deadline by one day.
The deadline for submitting maps is:
The deadline is now 11am GMT Tuesday 17th February
General Advice
MAke the streets look real. Don't just leave them empty of strange corners etc. It's better to create a smaller, but polished area than a large unfinished map.
Testing
I highly recommend The Beta Testers Collective.
But since it is holiday time, please make sure you give them plenty of time to test.
Of course, you can get anybody you want to test your maps, but the BTC are very good at it and provide excellent feedback.
Prize and Judging Criteria
The prize for this mapping challenge is Contagion donated by an anonymous PP/RTSL Supporter and will be selected by a public vote.
General Rules
Maximum two maps per mapper per competition.
The map must be original and not have been released publicly before.
The map must run in system with only Ep2 installed
By entering the competition you grant PlanetPhillip.Com and RunThinkShootLive.Com the right to release the map as part of the CityStreetsVille Mod.
Maps must not appear before the release and for one month after the release of the mod.
No assets from retail games other than HL2, HL2: Ep1 or HL2: Ep2 are allowed.
Other assets are allowed with written permission from their original authors, which MUST be included in the entry.
Phillip's decision is final and no correspondence will be entered into about it.
The map MUST have a proper name.
The map MUST have a proper filename: MapName_csv.bsp
All entries must be sent to: [email protected] no later than the deadline.
Bonus Map
There is no bonus map for this challenge.
Final Thoughts
Replay Ep1 for some inspiration.
As always, feel free to post questions here as comments or send an email to me if you want a private answer.