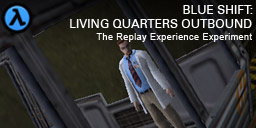 As the game begins, Barney Calhoun rides the tram from the Area 8 Topside Dormitories on the surface, into the underground sector of the Black Mesa Research Facility.
Along the way many new details about Black Mesa are revealed; Calhoun passes a laundromat and several fast food outlets, suggesting that the facility is very self-sufficient and probably houses many of its workers.
While Calhoun is locked outside the door to Area 3 Security Facilities, he is passed by Gordon Freeman riding in another tram heading towards Sector C in a scene that mirrors one in the original game, in which Gordon Freeman sees a guard locked out of a door on the inside of a tunnel.
Trivia
A soccer ball that fell from the basketball terrain above can be seen under the tracks at the very start of the ride.
In the laundromat, a scientist and a security guard are playing a fighting arcade video game, named Prax Wars 2: Dante's Revenge; the security guard eventually loses the game. A second scientist is reading The Mesa Times while waiting for his laundry to be done. Prax Wars is a nod to Prax War, an actual canceled game by developer Rebel Boat Rocker, on which Gearbox's Randy Pitchford worked. It was announced at E3 1998 as a very promising game.
This chapter takes place at the same time as the Half-Life chapter Black Mesa Inbound.
Phillip's Quiz Questions
This section is new for TREE. I will ask a couple of questions and see if you know the answers before you play.
What's the name of the taco place called?
Where did Barney go to college?
What Security Checkpoint Area number does Otis left you down from?
Got all three right? Well done Mr/Mrs/Ms Smartypants!
The Poll
Screenshots
Click on the thumbnails below to open a 1024 pixel wide image.
WARNING: The screenshots contain spoilers.
The Replay Experience Experiment
This post is part of the The Replay Experience Experiment event. This is a chance to replay all the Half-Life games and discuss them based on our experiences since we first played them.
Hat Tip
All text taken from the CombineOverWiki, a fan-supported, editable wiki covering the Half-Life series of games.
Walkthrough
On the left is a complete text walkthrough for Half-Life: Blue Shift.

It has been written by Stanley E. Dunigan and updated with all the tricks and tips from PlanetPhillip.Com readers.

It is in PDF format, meaning you can open it directly in modern browsers or download it and print it.

(Left-click to open and right-click to save)
Do Not Own This Game?
You can purchase Half-Life: Blue Shift directly through Steam and could be playing in within moments, depending on your internet connection.