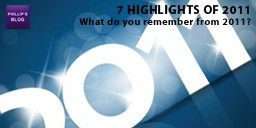 Well, 2011 wasn't exactly a fantastic year for SP Source modding but there were some interesting things that happened.
This isn't a review of the year, just a look at some of the highlights.
I would also like to add a quick mention about Jasper. Jasper was a regular reviewer and interesting member here on PP. He passed away on 21 March 2011 and I still find myself thinking of him and wonder what he would have thought of certain mods.
So, here are 7 Highlights of 2011.
Don't forget to add your own in the comments.
Number Seven: A few interesting blog posts

I started my 7 Series blog posts and have a long list of ideas for more articles.
One post that seemed to catch people's imagination was Here is my story of how I got into gaming. Some interesting reads there.
My 80/20 rule discusses how puzzles work within Portal and normal FPS games, Mappers, never under-estimate how stupid players can be talks about how easy it is for players to miss stuff. Plenty of DOH! moments there.
The WOW Factor and Evenness of Quality almost seem to contradict each other but in fact highlight the same essential element of good design.
Send me your desktop got plenty of replies and asked readers to send me an image of their gaming area. WOW, a huge difference in styles are shown.
And finally I started a new style of article called Mod Reports were I weave a little fiction into a detailed report about a mod that is still in development. I should say that all facts related to the mod itself are true.
Number Six: Some great releases

Obviously, I am not going to list all the maps and mods releases here, but there werea few that caught my eye.
Call In, Sile, Precursor, Random 17 and Daylight are all great in their own way and I recommend you try them all.
Number Five: Plenty of Giveaways!

I love giving games away. It's nice to give something back to the community. 2011 was a bumper year for giveaways.
In total I gave away 63 games via the site. Some from me, others from donations and some from Steam Contests.com.
The Gargantuan Games Giveaway was a success, with 37 games given away.
Thanks to everybody involved and whilst 2012 won't be as successful in this regard, I still hope to giveaway quite a few games.
Number Four: MapTap

MapTap is a free application that manages single player maps downloaded from PlanetPhillip.Com. You can install, play and uninstall directly from the application.
It makes play SP maps so easy, that you no longer have the excuse that's it is too much trouble to install them.
I have lots of planned features and there will be big update coming soon.
Number Three: 100 Summer Days of Nostalgia and HHQQ

I can't remember when it happened but I suddenly had the idea of running special events to motivate me to back date the map and mods posts. The first one was way too ambitious, but fortunately I managed to complete it.
100 Summer Days of Nostalgia was a huge success and consisted of one updated Half-Life 1 map or mod everyday. It received 15,598 downloads (from the beginning to 10 days after) and 926 Recommendations, which I think is fantastic.
The second event was the Hazardous Half-Quake Quatridual which was 4 days of MuddaSheep mods. Obviously, the scope was much smaller, but the concept was the same.
Look out for more of these theme special events in the future.
Number Two: The *Villes

I hosted 3 mapping competitions in 2011; RooftopVille, StriderVille and HalloweenVille.
All seemed to be fairly well received.
he first one in 2012 only had 3 entries but I will try a few more before finally giving up.
Number One: G-String

G-String is an amazing piece of work and probably is my mod of the year 2011.
Yes, it's hard work at times but something this big, and I mean in scope as well as actual play size, deserves to be played by all.
I suspect that most won't finish but that shouldn't stop you from starting it.