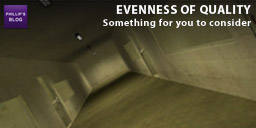 There are lots of things that affect how popular a mod becomes and how much coverage it gets. In fact, I had a conversation with somebody recently about his mod and I used the phrase "The right mod, in the right place at the right time".
A few days ago I posted a mod called The Sewer and it's quite good in some sections and average in others.
It's clear that a lot of work went into it and I am surprised it hasn't got more coverage, if for no other reasons than there's not much around.
It got me thinking about what affects popularity. The quick answer is "quality" but there have been some very good mods that get little coverage.
Timing is also very important and it's a subject I have written about before. There's no obvious time to release something, besides NOT releasing just after a Valve game!
In this article I am going to look at one particular aspect and I hope to write a few more on different topics soon.
I should prefix the rest of this article by saying I am not criticising The Sewer directly. It was just the catalyst for the following thoughts.
Let's look at "Evenness of Quality. For a mod to be considered great it seems that it must have the same level of quality throughout. It can't be "good" for most of it then, go to "average" and then onto "great". People will remember the "great" and drop the "good" down to "average" and the "average" down to "poor". Think about. How much can you actually remember from some mods? Probably only some parts. Of course, the longer the time since you played a particular mod, the more likely that most of it will blur.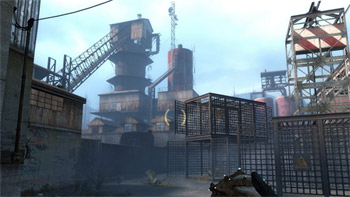 That's an intrinsic issue with making mods – reusing what Valve gave us.
In fact, that might be one of the marks of a good designer – the ability to reuse stuff in new and interesting ways, that don't look out of place or seem strange.
What is needed is a constant level of quality and preferably the higher that quality the better. But, let's be clear. If you have a mod that goes between "good" and "great", then don't release it until everything is great. If your mod goes between "good" and "average", the same applies. Bring those average areas up to good. It should go without saying but if you have a mod that varies between "poor" and "average", you should be working hard to make everything average.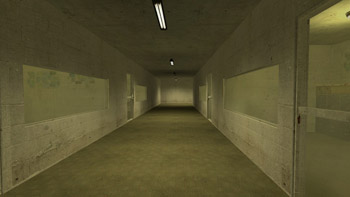 Ideally, you want every area as good as possible but the real world is different.
You might not have the ability (yet) or dedication to make great mods. Instead of spending time trying to make everything great, especially when it's only average, you would be better off making the quality even, releasing it and starting on a new project.
What I want as a player is consistancy, I don't want ultra-detailed areas followed by empty streets. Detailed areas only highlight the empty ones. Yes, I know I have said that already but I reall want the point to sink in. Mappers can be a pretty stubborn lot, sometimes.
Let's talk about those two screenshots you just looked at. One from Research and Development, the other from The Sewer. Yes, it's incredibly unfair to make direct comparison between two mods, made by two different people at different stages of their mod careers, showing two completely types of areas in different parts of a mod. But, (there's always a but, isn't there) these are the moments that we remember. These are the images that I think of when I think of the respective mods.
In fact, let's take that idea a little further. If you took the best and worst areas from each mod and compared them against each other there should be little difference. Taking into account the types of areas of course.
On the same vain, and as a player, I don't want to feel that I can spot maps or areas where the mapper hs improved. That recently happened with Precursor and it was quite noticable.
Of course, there are many other things that are important but this is one I have noticed a lot recently.
I'd love to hear from modders how they approach this when making maps and also from players who have noticed this in mods.
Final words: Set realistic standards at the beginning of a project and KEEP them.