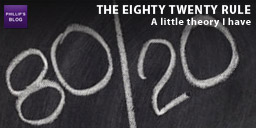 I've mentioned this before in some of my podcasts and even some reviews but yesterday during the 100 SDoN Podcast 03 it came up again but in a slightly different context.
Let me start at the beginning.
I have a theory that a good Portal/Portal 2 puzzle should follow the Pareto Principle (also know as the 80/20 rule) in that it should take me eighty percent of the time to workout HOW to beat a chamber or puzzle and twenty percent of the time actually DOING it.
Let's follow the process in a little more detail….
You enter a chamber.
It's quite possible the exit can be seen with a few seconds.
Most of your time is spent working out the exact route and actions required to get there.
You may perform a few failed attempts, perhaps choosing the wrong area to place a portal.
Eventually, you get it right and you reach the exit. (well done, by the way!)
Now, if you were to replay that chamber, you already know HOW to get to the exit and you do it within a few moments, probably less than a minute.
So, unless you are looking for new ways to beat that chamber, it's over in no time.
To take a quick aside. Portal and Portal 2 probably have the least amount of actual "playing" time than any other AAA retail game released in the last few years. Think about it. You spent more time going up and down those damn elevators than shooting portals!
Of course, it is only a rule of thumb and there are probably great chambers that don't follow it. But as a general principle I think it works quite well. I don't like to spend too long making difficult jumps or any other fast-reaction movement. I play portal for the puzzle element, not the skill element.
Can you image playing chess where once you decided on your move you had to do some sort of acrobatic movement to place the piece? Oh, and not just that but all with less than a second! You get my point.
Yes, some chambers are fun because they require some precise movement, but only for a limited number of players. That's why the actual retail games don't have this idea as part of the core gameplay – that is for the hardcore players and this rule of thumb doesn't apply.
Now, yesterday, I extended my rule to normal FPS games and mods, but flipped the percentages around.
Let's think of it like this….
You enter an area and the way is not obvious. (In this case, I am thinking of the equivalent of a Portal chamber, not just a simple room or corridor.)
You do some quick exploring but are attacked by enemies.
You now know exactly where you need to get to.
The next 5 minutes are spent trying to get past those enemies.
Much more time is spent getting somewhere than actually working out where to go.
In the case of normal FPS games, there are probably a lot more exceptions than in Portal chambers, but for larger areas, especially indoors with multiple levels this rule of thumb might work quite well.
That's why I don't mind games, maps or mods that are quit linear. It's the shooting and skilled based actions that are most fun in these games, whereas in Portal chambers it's the puzzle aspects that is most rewarding.
What do you think? Is this rule just too vague?