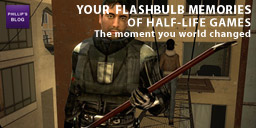 Wikipedia defines Flashbulb Memories as "a highly detailed, exceptionally vivid 'snapshot' of the moment and circumstances in which a piece of surprising and consequential (or emotionally arousing) news was heard."
We normally associate flashbulb memories with incredibly sociological events and I in no way want to belittle these types of events or their consequences by comparing our mini-memories of videos games to these events.
That said, for some these memories have significant importance as they changed the way we live our lives. My life would certainly be very different if I hadn't bought that computer magazine.
But this article is not about how we got into gaming or even our favourite moments of the games but more the moment we first heard about or became aware of any Half-Life game.
For me Half-Life doesn't have a flashbulb memory associated with it. It more or less seeped into my awareness. I was hooked on Unreal and knew there was another similar FPS game around. I just didn't want to lose that love of Unreal. I saw the orange, Green and Blue boxes in PC World but didn't look or touch them.
I came to the Half-Life party late, but maybe you didn't Do you remember where you were when you first heard of Half-Life?
Now, Half-Life 2 is completely different. Whilst I don't remember where I was or any other details I do remember the moment when I first saw the crowbar with the shadow that looked like a "2".
I don't know if this was an official Valve promo image or whether a gaming magazine created it after getting a press release, but I do remember feeling quite excited.
I can't say the same for Ep1 or Ep2 but I am pretty sure we will all have a mini-flashbulb memory when we finally hear about HL3/Ep3 or whatever they call it.
So, sit back on the couch, relax and tell me all about your Half-Life flashbulb memories…..