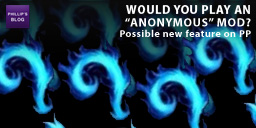 So, after posting this week's poll question about choosing a mod, an idea popped into my head.
A special feature, where, say once a month, I post an anonymous mod.
Let me explain. I tell you the game it's for and the file size but you won't know anything else about it.
You decide if you want to play it or not and if you do, then you download it.
After 3 days, I post it on the site like a normal mod. At that point readers would post their reviews.
I am curious to see if knowing nothing about a mod affects your review of it. I really believe that when readers come to the site and see a mod with all good reviews, they have a higher expectation than they would normally.
So, let me know if you like the idea or have any suggestions related to it.
Quick Poll