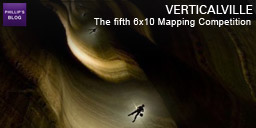 Welcome to the fifth mapping competition in the 6×10 series.
For this competition I want you to create a map with plenty of vertical gameplay.
You can have the player work up, work down, work up, then down, or down, then up – as long as most of the movement is vertical I am happy.
It can be inside a tower, outside, a cliff, a cave: anything that requires vertical movement.
You can use elevators, jumps, vehicles, buildings, trees – it's all up (or down!) to you.
THE JUDGING
The winner will be the map that uses the concept of "vertical gameplay" in the most interesting way, combined with a map that is enjoyable to play.
Length is not a major consideration but very short maps must compensate by providing something intense or amazing.
RULES
The standard 6×10 rules apply, make sure you read them.
You MUST include a readme.txt file with your map. No readme, no chance to win. The readme should include your name, the map's name, any credits or assets or ideas, details about the setting etc.
If you have any questions about the theme or judging, just ask.
Sponsor and Prize
This competition is being kindly sponsored by EpicTimez.Com.
The prize, in addition to the points, is L.A. Noire: The Complete Edition AND Command & Conquer: Red Alert 3.
CLOSING DATE
6PM GMT 17th SEPTEMBER 2012
As usual, if you have any questions, please use the comments system below or email me directly: [email protected].
There are NO additional rules that apply to this competition – but make sure you READ the main rules!
Visit the 6×10 Mapping Competition Series homepage for full details of the event and the rules.