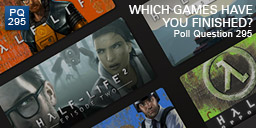 I was just checking Reddit and started reading a thread entitled I Just Finished HL2: Ep2 and there wa a message on there by somebody saying he/she hadn't finished Ep2 because not having HL3/Ep3 made him sad and it got me thinking, how many PP readers haven't finished the games.
I'm pretty sure we had the discussion before but because readers come and go, I thought it was time for a new one.
I sometimes don't watch the last episode of a TV series and wait for the next series to come on, so I can watch it just before. I HATE cliffhangers.
If you haven't finished a game or games, why not?
Time to vote